Sid Hudson
Date and Place of Birth: January 3, 1915 Coalfield, Tennessee
Died: October 10, 2008 Waco, Texas
Baseball Experience: Major League
Position: Pitcher
Rank: Sergeant
Military Unit: US Army Air Force
Area Served: Pacific Theater of Operations
Major League Stats: Sid Hudson on Baseball-Almanac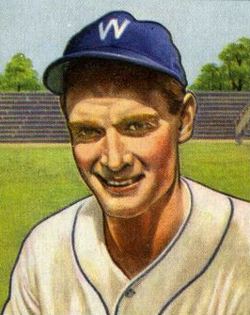 Sidney C "Sid" Hudson was born on January 3, 1915 in Coalfield, Tennessee.Tennessee. He was signed by the Washington Senators in 1938 and played his rookie year with the Sanford Lookouts of the Florida State League. In 1939, he had an exceptional 24-4 record and 1.80 ERA with the Lookouts, making the jump from Class D to the majors in 1940.
Despite the Senators seventh-place finish in 1940, the six-foot-four right-hander used finesse and great control to fashion a 17-16 won-loss record, and he was an American League all-star in 1941 and 1942.
He entered military service with the Army Air Force on October 15, 1942, and after going through induction at Camp Wolters Reception Center, Texas, he was assigned to the 79th Air Base Squadron at Waco Army Air Base. As a physical instructor, Sergeant Hudson, regularly played for the Waco Army Air Base Wolves under manager Birdie Tebbetts, and in November 1943, he was selected for the All-Army team.
Fears for Hudson's baseball future surrounded a sore throwing arm in 1944, but a period of rest soon allowed him to return to the mound. In March 1945, he left Waco and headed to the Pacific to play for Buster Mills' 73rd Wing Bombers in a series of games in Pacific war zones.
Hudson sported a pair of calloused hands when he was discharged in January 15, 1946. "Know where I got those?" he told The Sporting News on January 17. "It was part of our physical training assignment in the Marianas. We had to build the baseball diamonds there ourselves. If the Senators ever need to build a new field, I believe I could be of some real assistance to Clark Griffith."
Hudson was back with the Senators in 1946, but he never truly regained his pre-war form. Washington traded him to the Red Sox in June 1952 where he pitched until 1954, and then became a scout until 1960. He later became a coach with the Washington Senators and remained with the club when they became the Texas Rangers.
Sid Hudson passed away in Waco, Texas, on October 10, 2008. He was 93.
Created February 15, 2008. Updated October 13, 2008.
Copyright © 2015 Gary Bedingfield (Baseball in Wartime). All Rights Reserved.