Go on, why not sponsor this page for $5.00 and have your own message appear in this space.

Click here for details
Vern Hoscheit
Date and Place of Birth: April 1, 1922 Brunswick, Nebraska
Died: June 11, 2007 Plainview, Nebraska
Baseball Experience: Major League
Position: Coach
Rank: Unknown
Military Unit: US Army Air Force
Area Served: United States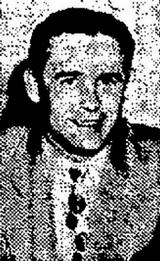 Vernard A "Vern" Hoscheit was born on April 1, 1922 in Brunswick, Nebraska. At 19, the catcher signed with the New York Yankees in 1941 and was assigned to the Norfolk Yankees in the Western League. The following year he caught for the Joplin Miners of the Western Association, and entered military service with the Army Air Force on November 5, 1942 at Fort Crook, Nebraska.
Hoscheit spent his military service years at Lincoln Army Air Field in Nebraska where he caught for the camp team. He returned to professional baseball in 1946, playing for the Binghamton Triplets in the Eastern League and continued to pursue a playing career in the minors until turning to managing in the late 1940s.
In 1955, Hoscheit became general manager of the Quincy Gems in the Three-I League, took over that role at Peoria in 1957, then Greensboro in 1958 to 1959. He became president of the Three-I League in 1960.
In 1968 to 1987 he reached the major leagues as a coach with the Orioles, Athletics, Angels and Mets, which included four World Series championship teams.
Vern Hoscheit passed away at the Pierce Manor Nursing Home in Plainview, Nebraska on June 11, 2007. He was 85 years old.
Created September 8, 2007.
Copyright © 2015 Gary Bedingfield (Baseball in Wartime). All Rights Reserved.