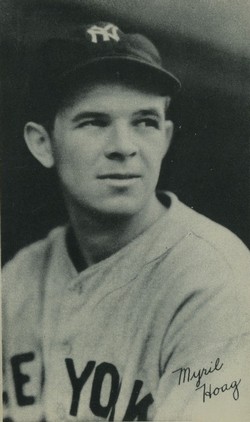 Myril O Hoag was born on March 9, 1908 in Davis, California. He signed with the Sacramento Solons of the Pacific Coast League in 1926, and by 1929, he had established himself as a regular in the Coast League's line-up. His outstanding 1930 season – in which he batted .337 with 17 home runs and 121 RBIs - led to him being purchased by the New York Yankees for $75,000 amid considerable fanfare.
Hoag failed to live up to the hype his first two years with the Yankees and saw only limited duty as a back-up outfielder. He was back in the minors in 1933 playing a full season with Newark of the International League before returning to New York in 1934.
Hoag remained in a utility role with the Yankees and suffered serious head injuries when a collision in the outfield with Joe DiMaggio resulted in brain surgery. However, he apparently made a full recovery and played 106 games and batted .301 the following year.
Hoag was traded to the Browns in 1939 and enjoyed his best major league season playing a career-high 129 games and batting .295 with 75 RBIs as well as being an American League all-star selection.
He was sold to the White Sox in April 1941, and entered military service with the Army Air Force on November 1, 1942. Hoag served at Mather Field, California, where he was teammates with Tony Freitas on the Mather Field Fliers ball team. Because of his powerful arm, Hoag often pitched and played shortstop for the Fliers.
On June 5, 1943, he was selected to play for an Army all-star team against the Navy in a benefit game at Seals' Stadium. The Army lost 7-6.
After suffering recurring headaches, dizzy spells and other complications from his 1936 baseball head injury, Hoag was discharged from service in November 1943. He rejoined the White Sox in 1944 but was sold to the Cleveland Indians in June. He played a utility role with the Indians during 1944 and 1945, and then returned to the minor leagues as a player-manager with Palatka, Gainesville, St Petersburg and Rome. Having pitched while in the service at Mather Field, Hoag often pitched in the minors and had a standout season with Gainesville of the Florida State League in 1948, when he was 24-4 with a 1.32 ERA. He also batted .326 that year!
Myril Hoag passed away following an emphysema attack at High Springs, Florida on July 28, 1971. He was 63 years old.
Created February 20, 2008.