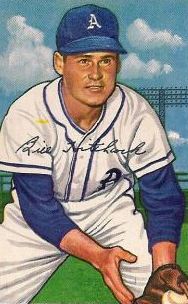 William C "Billy" Hitchcock was born on July 31, 1916 in Inverness, Alabama. The younger brother of Jim Hitchcock, who played for the Boston Braves in 1938, Billy attended Auburn University from 1935-1938 where he lettered in football as a halfback and in baseball at shortstop. As a halfback for the football team, Hitchcock scored Auburn's first-ever bowl points, when he ran for a 40-yard touchdown against Villanova in the Bacardi Bowl in Havana, Cuba, the only bowl game in history to be played out of the country.
He was signed by the New York Yankees in 1939 and played 116 games for Kansas City of the American Association that year. Back with Kansas City in 1940, Hitchcock batted .268 with 61 RBIs. Switching from third to shortstop in 1941, he batted .296 in 150 games and was purchased by the Detroit Tigers at the end of the season.
Hitchcock played 85 games with the Tigers in 1942 and entered military service on August 13 of that year. With an ROTC commission in field artillery from Auburn, Lieutenant Hitchcock was at New Cumberland Army Reception Center, Pennsylvania in 1943, and played in the War Bond game at the Polo Grounds on August 26.
Hitchcock later transferred to the Army Air Force and served in California before being sent to Hawaii where he played ball with the Hickam Bombers alongside Dario Lodigiani and Ferris Fain. In July 1945, Hitchcock played for the 58th Bomb Wing Wingmen on the 20th Air Force tour of Pacific Islands. The Wingmen, managed by Birdie Tebbetts, were based at West Field, Tinian and played round-robin competitions against Buster Mills' 73rd Bomb Wing and Lew Riggs' 313th Bomb Wing. The Wingmen, with a line-up that featured Enos Slaughter and Joe Gordon, won the Iwo Jima series in August 1945.
Hitchcock was discharged from service on February 19, 1946, and played the next eight seasons with six different teams. His best year was 1950 with the Athletics when he hit .273 in 115 games. Hitchcock later served as a coach and manager with the Tigers, Orioles and Braves during the 1950s and 1960s. From 1971 to 1980, he was president of the Southern League.
Billy Hitchcock, an inductee of the Alabama Sports Hall of Fame, passed away on April 9, 2006 in Opelika, Alabama. He was 89.
Created March 31, 2008.