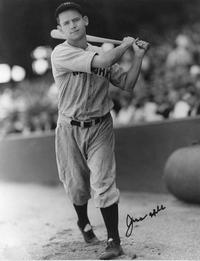 Jesse T Hill was born in Yates, Missouri on January 20, 1907 and moved with his family to Corona, California as a boy, attending Corona High School and Riverside City College. After transferring to the University of Southern California, he
starred in baseball, football and track, and was one of the greatest all-round athlete's in the school's history.
He played as a running back for the 1928 national championship team, and was a senior on the 1929 team that went on to win the 1930 Rose Bowl.
Hill graduated from USC in 1930 and signed with the Hollywood Stars of the Pacific Coast League, hitting a home run against the Los Angeles Angels in his first professional at-bat.
The Stars sold Hill to the New York Yankees at the end of the 1931 season. He was assigned to Newark in 1932 where he batted .331, played for St Paul in 1933, and was back with Newark in 1934.
Hill made his major league debut with the Yankees in 1935, playing 107 games and batting a very respectable .293. In January 1936 he was traded to the Washington Senators and played 85 games, batting .305 and stealing 11 bases without being caught.
Hill got off to a poor start in 1937, and was hitting just .217 when he was sold to the Philadelphia Athletics on July 13. He played 70 games with Philadelphia and batted .293, stealing 16 bases.
Hill was sent to Oakland in November 1937, and he continued to play there until entering military service in 1942. he also began a coaching career at California high schools and colleges during the off season.
He was with the US Navy at the Navy Pre-Flight School at St Mary's College in California in 1942. On January 10, 1943, Lieutenant Hill was transferred to the Del Monte Pre-Flight School which opened its doors to the first cadet class on February 4. Hill worked with USC athletic director Willis O. Hunter at Del Monte, and Hunter hired him when he left the service in 1946 to coach the freshman football and track teams. He was also head of the athletic department at Long Beach City College, and became USC's head track coach in 1949. Hill became USC's football coach in 1951
Hill was an assistant coach on USC's 1947 Rose Bowl team. His team won the Rose Bowl in 1953. Hill stepped down from his football post to become USC's athletic director from 1957 to 1972, during which period the university won 29 team national championships. Hill then became commissioner of the Pacific Coast Athletic Association, retiring in 1978.
Jesse Hill passed away in Pasadena, California on August 31, 1993 from complications of Alzheimer's disease. He was 86 years old. Hill was inducted into the USC Athletic Hall of Fame in 1995.
Created June 16, 2007.
Copyright © 2015 Gary Bedingfield (Baseball in Wartime). All Rights Reserved.