Whitey Hilcher
Date and Place of Birth: February 28, 1909 Chicago, Illinois
Died: November 21, 1962 Minneapolis, Minnesota
Baseball Experience: Major League
Position: Pitcher
Rank: Corporal
Military Unit: Signal Corps US Army
Area Served: European Theater of Operations
Major League Stats: Whitey Hilcher on Baseball-Almanac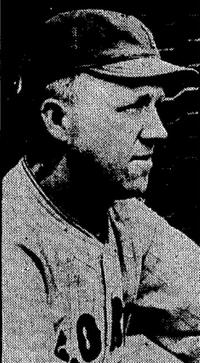 Walter F "Whitey" Hilcher was born on February 28, 1909 in Chicago, Illinois. A right-handed pitcher, he attended the University of Alabama and was signed by the Cincinnati Reds in 1930. Hilcher was sent to Peoria in the Three-I League where he had a record of 4-12. In 1931, he bounced back with a 12-18 record for the seventh-placed club and ranked third in strike outs in the league. He was called up by the Reds in September 1931 and made his debut against the Phillies on September 17, allowing three hits and no runs in four innings of relief work.
In 1932 he made another 11 appearances for the Reds for an 0-3 record and 7.71 ERA. Hilcher was optioned to Minneapolis in 1933 where he won 12 and lost eight.
After a strong season with the Toronto Maple Leafs in 1935, Hilcher got another crack at the majors and pitched four late-season games for the Reds. He won two and had an ERA of 2.79. He was back for a further 14 games in 1936 and was 1-2 with a 6.17 ERA in what was to be his last season in the major leagues. He went on to pitch in the Pacific Coast League with Seattle, Portland (winning 21 games in 1938) and was with the Hollywood Stars in 1942 before entering military service on December 9.
Corporal Hilcher was stationed at Fort Snelling, Minnesota with the Signal Corps of the US Army. He was 35 years old when he arrived at the American School Center in England in 1944. He pitched throughout the summer for the ASC Angels.
Whitey Hilcher returned to the United States in 1945 and was a partner in the Johnson-Hilcher Plastering Company in Minneapolis until he died of a heart attack on November 21, 1962, aged 53. He is buried at Fort Snelling National Cemetery in Minneapolis.
Thanks to Ted Hathaway at the Minneapolis Public Library for help with this biography.
Created June 16, 2007.
Copyright © 2015 Gary Bedingfield (Baseball in Wartime). All Rights Reserved.