Pinky Higgins
Date and Place of Birth: May 27, 1909 Red Oak, Texas
Died: March 21, 1969 Dallas, Texas
Baseball Experience: Major League
Position: Third Base
Rank: Unknown
Military Unit: US Navy
Area Served: United States
Major League Stats: Pinky Higgins on Baseball-Almanac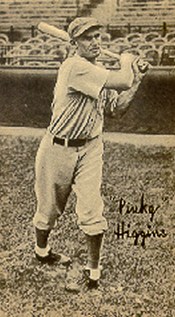 Michael F "Pinky" Higgins was born on May 27, 1909 in Red Oak, Texas. A graduate of the University of Texas in 1930, Higgins joined the Philadelphia Athletics in June and played 14 games.
He was with Dallas of the Texas League in 1931 and advanced to Portland of the Pacific Coast League in 1932 where he batted .326 with 33 home runs and 132 RBIs. The 24-year-old third baseman was back in the majors to stay in 1933 and remained with the Athletics through 1936, making the American League all-star twice. In 1937 he was traded to the Boston Red Sox where he remained for two years before being traded to the Detroit Tigers. Higgins spent six years with the Tigers and was an all-star in 1944.
The 35-year-old entered military service with the Navy on March 24, 1945. He had been accepted for military service in the spring of 1944 but played the full season while Army induction centers were concentrating upon regulations temporarily placing the soldiers' age limit at 27.
Higgins served at Great Lakes Naval Training Station and played baseball for Bob Feller during the summer of 1945. He was discharged on February 15, 1946 and returned to the Tigers, appearing in 18 games before being sold back to the Red Sox on May 19. Higgins played 64 games at Boston and batted .275 to end his playing career.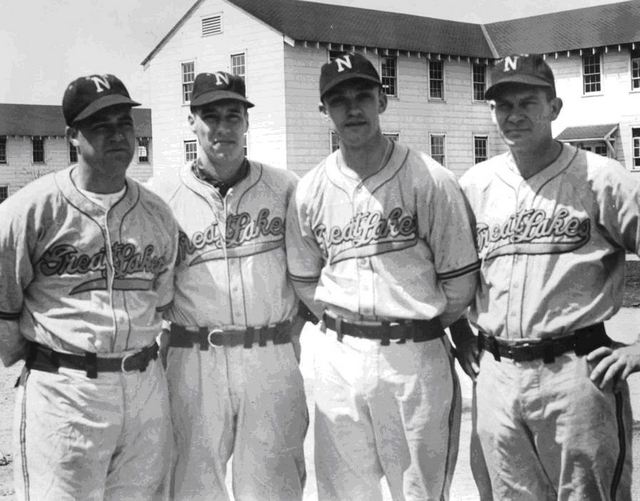 Pinky Higgins (far right) at Great Lakes with Ken Keltner, Bob Feller and Johnny Gorsica
In 14 seasons Higgins played over 1800 games and batted .292. He managed the Red Sox from 1955 to 1962, and later served as their executive vice-president and general manager. He left the Red Sox in 1965 and became a scout for the Houston Astros.
In February 1968, Higgins's car struck and killed a Louisiana state highway worker and injured three others. He pleaded guilty to driving while drunk and was sentenced to four years for negligent homicide. After serving two months he was paroled from St Francisville Prison in Louisiana on March 20, 1969, and suffered a fatal heart attack at St Paul's Hospital in Dallas, Texas the following day. Pinky Higgins was 69 years old.
Created April 1, 2008.
Copyright © 2015 Gary Bedingfield (Baseball in Wartime). All Rights Reserved.