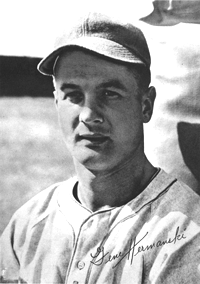 Eugene V "Gene" Hermanski was born in Pittsfield, Massachusetts on May 11, 1920. He was raised in Newark, New Jersey, where he helped his high school baseball team win the state championship.
Hermanski was signed by the Philadelphia Athletics after high school and played for Federalsburg and Pocomoke City in the Eastern Shore League. He batted .309 in his rookie minor league season with 11 home runs. The Pocomoke City team disbanded after the 1940 season and Hermanski became a free agent. He then contacted the Brooklyn Dodgers and was signed to play with Reading in the Interstate League. Manager Fresco Thompson, however, felt the left-handed hitting outfielder needed another year in Class D ball and he spent 1941 with Olean in the PONY League, batting .341.
Hermanski joined the Coast Guard in the fall of 1942 and was stationed at Floyd Bennett Field where he played for the baseball team. After 15 months he tried to join the Navy in the hope of becoming a pilot. During this time he was given a two-month leave and returned to the Brooklyn Dodgers organization to play with Durham in the Piedmont League. After 10 games he was called up to the Dodgers and made his major league debut on August 15, 1943. Hermanski played 18 games for the Dodgers while on leave, batting an even .300 in 60 at-bats.
Hermanksi's request to join the Navy sent him to Colgate for a course in Naval Aviation. After six months, however, he had not made the grade and returned to the Coast Guard in 1944 to manage and play outfield with the Floyd Bennett Field Fliers. In 1944 he batted .410 with the club. He hit .350 in 1945.
In addition to playing with the Coast Guard team, Hermanski also played with the Brooklyn Bushwicks semi-pro team under the assumed name of Gene Walsh. In 1945, he played 83 games with the Bushwicks batted .338 with 10 home runs and 58 RBIs.
When it came time to report to the Dodgers' early camp for service returnees at Sanford, Florida, in 1946, Hermanski was not only in top physical condition, he was also much further along in his development than the other rookies who had served overseas. He played eight seasons with Brooklyn, the Cubs and the Pirates. In 1948 the Brooklyn right fielder batted .290 in 133 games with 60 RBIs.
Gene Hermanski passed away on August 9, 2010, aged 90.
Created April 14, 2007. Updated December 18, 2011.
Copyright © 2015 Gary Bedingfield (Baseball in Wartime). All Rights Reserved.