Would you like to sponsor this page? Contact gary@baseballinwartime.com

Billy Herman
Date and Place of Birth: July 7, 1909 New Albany, Indiana
Died: September 5, 1992 West Palm Beach, Florida
Baseball Experience: Major League
Position: Second Base
Rank: Unknown
Military Unit: US Navy
Area Served: Pacific Theater of Operations
Major League Stats: Billy Herman on Baseball-Almanac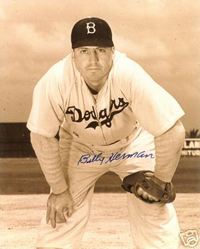 William J B "Billy" Herman was born on July 7, 1909 in New Albany, Indiana. He signed with the Louisville Colonels of the American Association in 1928 and quickly established himself as the team's regular second baseman. In 1931, Herman batted .350 with 59 RBIs and was purchased by the Chicago Cubs for $50,000 on August 4. He made his major league debut on August 29 against Cincinnati and played 25 games for a .327 batting average before the season was over.
Herman batted .314 for the Cubs in 1932 and was a National League all-star by 1934.
An incomparable hit-and-run man, he led the National League in hits (227) and doubles (57) in 1935.
The Cubs traded Herman to the Dodgers in May 1941 and he continued to have some excellent seasons with Brooklyn until entering military service with the Navy on March 11, 1944.
Herman was at Great Lakes Naval Training Center during 1944 and In March 1945, he was with Navy teams that traveled to Pacific islands and played games at Eniwetok, Kwajelein, Saipan, Gum and the Philippines.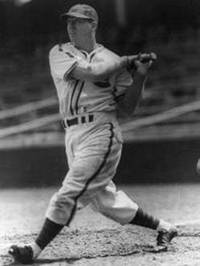 During the summer of 1945, Herman served as player-manager of the Aiea Barracks team in Hawaii. Aiea lost to Pearl Harbor Submarine Base in the 14th Naval District League championship game in September 1945 before 21,000 at Furlong Field, but he was selected to the 14th Naval District All-Star team and voted league MVP.

In late September 1945, Herman played for National League team which won Navy World Series in Hawaii. He was discharged from service on December 15, 1945.
Herman was 36 when he returned to the Dodgers in 1946, and they traded him to the Boston Braves in June. He was then traded to the Pirates for 1947 and spent most of the season - his last in the majors - as their player/manager.
After his playing days ended, he was a Brooklyn Dodgers coach from 1952 to 1957 and a member of the Milwaukee Braves staff in 1958 and 1959. He became a Boston Red Sox coach in 1960 and took over as their manager late in the 1964 season. After managing the Red Sox for almost two years, he was a California Angels coach in 1967 and a member of the San Diego Padres staff in 1978 and 1979.
Billy Herman was inducted in the Baseball Hall of Fame in 1975. He passed away in West Palm Beach, Florida on September 5, 1992, aged 83. He is buried at the Riverside Memorial Park in Tequesta, Florida
Created January 28, 2008.
Copyright © 2015 Gary Bedingfield (Baseball in Wartime). All Rights Reserved.