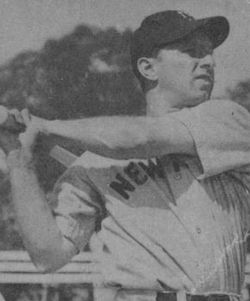 Thomas D "Tommy" Henrich was born on February 20, 1913 in Massillon, Ohio. He signed with the Cleveland Indians in 1934 and played for Monessen of the Penn State League his rookie year, batting .326 with 15 homeruns and 70 RBIs.
In 1935, he was with Zanesville of the Middle-Atlantic League and joined New Orleans of the Southern Association in 1936. In an outstanding season, the 23-year-old outfielder batted .346 with 15 homeruns and 100 RBIs.
But on April 14, 1937, the Indians made Henrich a free agent and he signed with the New York Yankees, making his major league debut on May 11. Henrich appeared in 67 games that year and batted .320. He remained a Yankee regular and was an American League all-star selection in 1942 – his last season before he entered military service.
Henrich entered service with the Coast Guard on August 30, 1942. He was stationed at the US Coast Guard Training Station in Grand Haven, Michigan for the duration of the war allowing him the opportunity to continue to play ball with service teams.
He was discharged from service on September 29, 1945, and returned to the Yankees. Following an unusually low batting average in 1946 (.251), he returned to form and was an all-star from 1947 to 1950. In 11 seasons he played in four World Series. In 1948 the Yankees' right fielder batted .308 with 100 RBIs, and led the league in runs (138) and triples (14). He retired after 1950 following ensuing problems with his knees.
Henrich was a coach with the Yankees in 1951, the Giants in 1957 and the Tigers in 1958 and 1959.
He attended the "Salute to Baseball Heroes of World War II" conference, held in Washington, DC in November 2000. At the time he said of his military service, "I didn't do anything to affect anybody."
Created April 14, 2008.