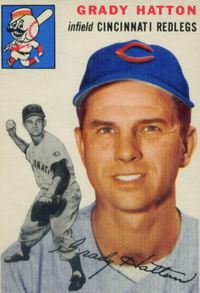 Grady E Hatton Jr was born on
October 7, 1922 in Beaumont, Texas. He was a shortstop on the Beaumont High School baseball team and played baseball at Texas University while working toward a degree in physical education.
He was all-South West Conference from 1941 to 1943, was team captain in 1943, and helped lead the Longhorns to South West Conference titles in 1941 and 1943.

Hatton enlisted in the Army Air Force on December 11, 1942, but two weeks later he was sent back to school. On May 8, 1943 he was called back into service and sent to Fort Sam Houston. On June 5 he was sent to the Greensboro Overseas Replacement Depot in North Carolina.
Hatton spent three years at Greensboro as a physical training instructor. In 1944, playing for the Greensboro Ordnance team he was 12 for 24 in the National Semi-Pro tournament at Wichita. Although Greensboro finished third he was the leading hitter of the tournament. In 1945, Greensboro again finished third at Wichita and Hatton batted .302.
He received his discharge on February 13, 1946, and with a number of professional offers to choose from, headed for Cincinnati. Hatton signed with the Reds and made his major league debut on April 16, 1946. He played 116 games in his rookie year and batted .271 with 14 home runs and 69 RBIs.
Hatton's major league career spanned 12 seasons with the Reds, Red Sox, Cardinals, Orioles and Cubs. He played 1,312 games and batted .254. In 1952 he was an all-star with the Reds.
After his playing career ended in 1960, Hatton became a manager in the minors. He was Minor League Manager of the Year in 1965 and managed the Houston Astros from 1966 to 1968. He remained with the Astros as a scout from 1968 through 1972, and as a major league coach in 1973-74.
Created June 16, 2007.
Copyright © 2015 Gary Bedingfield (Baseball in Wartime). All Rights Reserved.