Ray Hathaway
Date and Place of Birth: October 13, 1916 Greenville, Ohio
Died: February 11, 2015 Asheville, North Carolina
Baseball Experience: Major League
Position: Pitcher
Rank: Seaman Second Class
Military Unit: Company A, 6th Naval Construction Battalion, US Navy
Area Served: Pacific Theaters of Operations
Major League Stats: Ray Hathaway on Baseball-Almanac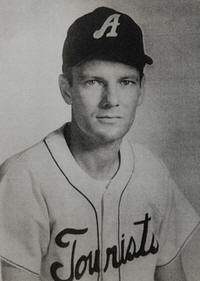 Ray W. Hathaway was born in Greenville, Ohio on October 13, 1916. A graduate of Greenville High School, he was 22 when he signed with the Brooklyn Dodgers organization in 1939. Hathaway began his career with the Pine Bluff Judges in the Class C Cotton States League where he had four wins and five losses in 29 appearances, finishing the season with the Dayton Wings of the Class C Middle Atlantic League and posting a 4-1 record in seven outings.

Hathaway was back with Dayton in 1940 and was 11-14 with a 4.33 ERA. He joined the Santa Barbara Saints of the Class C California League in 1941 and was 13-9 with a 2.84 ERA.

Military service beckoned after his most promising season in the minors and Hathaway served as a Seaman Second Class with Company A of the 6th Naval Construction Battalion, better known as the Seabees. He arrived in Guadalcanal in September 1942, helping to keep the Henderson Field airstrip operational despite continuous Japanese opposition. The battalion left Guadalcanal in January 1943 and was in Auckland, New Zealand for two months of rest and recuperation before departing for Noumea, New Caledonia in March. During 18 months at New Caledonia, as well as being involved in the construction work of the battalion, Hathaway teamed up with former Washington Senators' pitcher Ed Chapman for the battalion baseball team. An old swamp was turned into the best baseball diamond in New Caledonia and the 6th NCBs quickly earned a reputation as the best team in the region.

The battalion returned to Camp Parks, California in September 1944. After 26 months of overseas service and a Bronze Campaign Star for his part in the Battle of Guadalcanal, Hathaway received a medical discharge. He joined the Brooklyn Dodgers for spring training at Bear Mountain, New York in 1945 and made the team. His debut was on April 20 at the Polo Grounds, pitching one inning in relief and giving up a home run to Phil Weintraub. He then pitched an exhibition game against the St. Albans (Long Island) Naval Hospital team on April 30 and threw a few batting practice assignments before making his second appearance and first big league start on May 28 against the Cubs at Wrigley Field. Wild from the start, Hathaway lasted five innings and was beaten 5-3. He made his final major league appearance on June 3 in Cincinnati, hurling two innings in relief and allowing just one base on balls.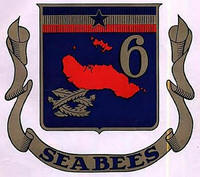 Hathaway spent the remainder of 1945 with the Montreal Royals, where he was 10-8 in 24 outings. He spent most of 1946 with the Trois-Rivieres Royals of the Class C Canadian-American League and took his first player-manager assignment the following year, aged 30, with Santa Barbara, where he had played in 1941. It was the beginning of a 25-year career as a minor league manager during which he won 1,441 games. Hathaway even pitched in at least one game until 1965 when, aged 48, he hurled two innings for the Class A Carolina League Raleigh Cardinals.

During his managerial career, he was at the helm of the Asheville Tourists for seven years between 1951 and 1964, which led to his induction in the South Atlantic League Hall of Fame in 2011.

Ray Hathaway, aged 98, passed away on February 11, 2015 in Asheville, North Carolina. His funeral service was held on February 14 at St. Mark's Lutheran Church, with burial at Ashelawn Gardens of Memory in Asheville.

Source:
Saga of the Sixth: A History, 1942-1945
Created February 14, 2015.
Copyright © 2015 Gary Bedingfield (Baseball in Wartime). All Rights Reserved.