Mickey Harris
Date and Place of Birth: January 30, 1917 New York, New York
Died: April 15, 1971 Farmington, Michigan
Baseball Experience: Major League
Position: Pitcher
Rank: Corporal
Military Unit: Sixth Air Force USAAF
Area Served: Panama Canal Zone
Major League Stats: Mickey Harris on Baseball-Almanac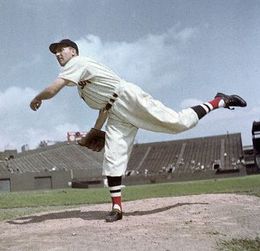 Maurice C "Mickey" Harris was born on January 30, 1917 in New York city. Red Sox scout Jack Egan was responsible for finding Harris in 1938. He saw the six-footer pitching in a semi-pro league and thought he had potential. But on the day Egan was prepared to sign Harris, who had no idea he was being scouted, he had one of his worst days, giving up a bases loaded home run that decided the game.
"That was a dumb pitch," Egan told Harris. "Why didn't you throw your good fast ball?"
"Why don't you mind your own business?" Harris snapped back.
Nevertheless, Egan offered Harris a contract for $100 a month and a $100 bonus. "I held out for an extra $50 bonus and got it," Harris recalled.
Before joining the Red Sox at the beginning of 1940, Harris pitched for Clarksdale, Little Rock and Scranton. He made 13 appearances in his rookie season for a 4-2 won-loss record. He joined the starting rotation in 1941 and went 8-14 with a 3-25 ERA.
Harris was just getting into the major league groove when military service beckoned. He was inducted at Fort Dix, New Jersey on October 14, 1941 and took basic anti-aircraft training at Fort Eustis, Virginia before leaving for the Panama Canal Zone at the beginning of 1942.
Mickey Harris was, perhaps, to play more baseball while in service than any other major league player. Pitching for the Balboa Brewers in the highly competitive Canal Zone League, Harris pitched a perfect game for the Brewers against the Canal Zone all-stars on April 12, 1942. Winning the game, 9-0, he threw just 69 pitches.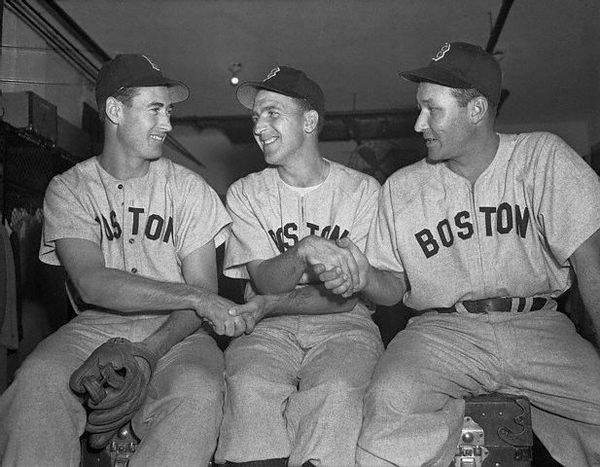 Mickey Harris (center) with Ted Williams and Rudy York before Game 2 of the 1946 World Series.
Despite this performance, Harris's record of just 11-6 is a clear indication of how competitive the Canal Zone League was. But baseball didn't occupy all his time, Private Harris still had military duties that involved manning anti-aircraft guns. "What would you do if a Jap plane were to come over?" somebody asked Harris.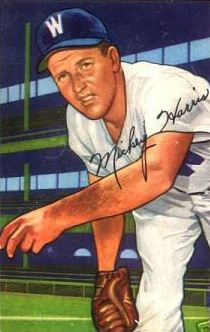 "I only hope we get the chance," he replied. "Just give me a shot at them."
On July 7, 1942, Harris was surprisingly recalled from the Canal Zone to play for an All-Service team against an American League all-star squad at Cleveland's Municipal Stadium. Before 62,059 fans, the American League beat the servicemen, 5-0. Harris gave up two runs in the seventh inning.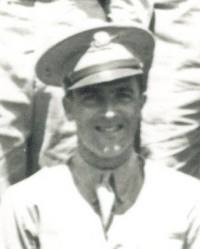 On August 6, 1944, Mickey Harris married Dorothy Baumann at St Mary's Church in Balboa, Panama. They had met in 1942. The reception followed at Tivoli Hotel.
In December 1944, Harris started his fourth season in the Canal Zone. His first three starts were shutouts and by March 1945, he had won his seventh straight game. Harris hurled his fourth shutout of season in June and then pitched a marathon game in July. He threw a 16-inning game for Balboa against an all-star squad and struck out Terry Moore three times.
Corporal Harris left Panama in October 1945. He had been overseas for almost four years.
Harris returned to the Red Sox in style. He compiled a 17-9 record in 1946, as the Red Sox ran away with the pennant. In May, Harris posted eight consecutive victories, including two in relief in two days. He was named to the American League All-Star team in the same season.
But chronic arm problems saw a steady decline from there on. He was traded to the Senators in June 1949 and enjoyed a brief revival in 1950 as he led the American League pitchers in saves with 15, and games finished with 53.
Harris was selected off waivers by the Indians in April 1952 and was released the following March.
Mickey Harris passed away in Farmington, Michigan following a short illness on April 15, 1971. He was 54 years old.
Created March 28, 2007. Updated April 3, 2008.
Copyright © 2015 Gary Bedingfield (Baseball in Wartime). All Rights Reserved.