Lee Grissom
Date and Place of Birth: October 23, 1907 Sherman, Texas
Died: October 4, 1998 Corning, California
Baseball Experience: Major League
Position: Pitcher
Rank: Private First Class
Military Unit: Headquarters, 2nd Air Force USAAF
Area Served: United States
Major League Stats: Lee Grissom on Baseball-Almanac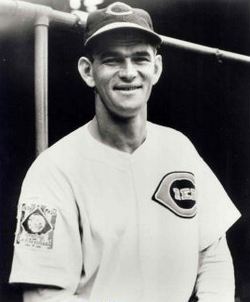 Lee T Grissom was born in Sherman, Texas on October 23, 1907. When he was three years old the family moved to Los Molinos, California.
Grissom was playing baseball in the local Farm Bureau League when a local scout, Gene Valla, spotted him and signed him to a professional contract. The hard-throwing left-hander pitched for the Mission Reds in the Pacific Coast League in 1933. He went to spring training with the Cincinnati Reds in 1934, played the season at Fort Worth in the Texas League and returned to Cincinnati to make his major league debut on September 2, 1934.
Grissom made further brief appearances with the Reds in 1935 and 1936, joining the pitching staff as a regular in 1937. That year, Grissom pitched in 50 games, posted a 12-17 won-loss record, led the league with five shutouts and pitched in the all-star game. He was unable to repeat that season's performance for Cincinnati and the Reds gave up on Grissom in January 1940, selling him to the Yankees.
Grissom made five relief appearances for the Yankees before being picked up on waivers by the Brooklyn Dodgers in May 1940. He finished the season for the Dodgers with a 2-5 record and a respectable 2.81 ERA.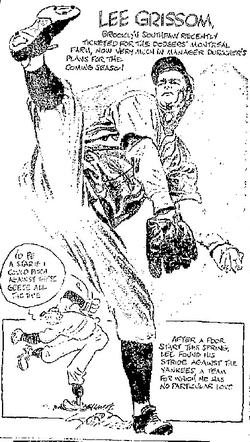 In May 1941, Grissom was traded to the Phillies for Vito Tamulis. Despite his 3.97 ERA, Grissom finished the year with a 2-13 record for the hapless Phillies, which included a run of 11 straight losses.
Grissom entered military service on June 6, 1942, at Camp Rucker, California. He was initially assigned to the infantry before joining the Army Air Force. Stationed at Buckley Field, Denver with Headquarters, 2nd Air Force, Grissom pitched for the base team under player/manager Burgess Whitehead.
He also pitched for a semi-pro team in Colorado Springs, 75 miles away, where he earned $100 a game.
Private First Class Grissom was discharged from the Army Air Force in September 1945. He was nearly 38 years old and had missed over three seasons of major league baseball. He returned to work on the family farm in California for many years. However, he did continue to pitch for local Sunday-league teams including Los Banos.
In August 1950, Grissom was in the headlines again but not for anything to do with baseball. The 42-year-old was facing manslaughter charges after he got into a fight at a Los Molinos pool room, during which Warren Shermmer, a local truck driver, died. In January 1952, Grissom was declared innocent of all charges by a Superior Court jury.
Lee Grissom passed away on October 4, 1998 in Corning, California. He was 90 years old. He is buried at the Sunset Hill Cemetery in Corning.
Some of the above information was obtained from an interview with Lee Grissom by Bob Brigham which can be seen at www.thediamondangle.com
Created March 12, 2007. Updated May 1, 2007.
Copyright © 2015 Gary Bedingfield (Baseball in Wartime). All Rights Reserved.