You can't tell any of the fellows in this war sector that when peace is restored, Ted Gray won't match the records of Grove, Hubbell, Pennock, Newhouser and the other great lefthanders.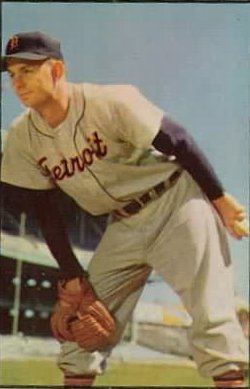 Ted G Gray was born in Detroit, Michigan on December 31, 1924. He starred at Highland Park High School in Detroit before signing with the Tigers and joining Winston-Salem of the Piedmont League in 1942, where he posted a 13-14 record with a 2.04 ERA. One of his last games was a 3-0, two-hitter against Greensboro on August 31 and he earned an end-of-season promotion to the Tigers' bench for the duration of the major league campaign.
Gray enlisted in the Navy at age 18 in March 1943. He reported to Great Lakes Naval Training Station in Illinois, where he pitched for the Blue Jackets under manager, Mickey Cochrane. Gray then pitched in California, defeating Fort Ord, 4-0, before leaving for the Pacific.
Based in the New Hebrides, Gray was a pitching sensation, winning 12 straight games and averaging 17 strike outs per contest. He struck out 21 in a 2-0, two-hitter against a Navy cruiser team, struck out 18 in a 2-0, two-hitter against a Seabee outfit. On another occasion he was beaten 2-0 despite striking out 19.
"He's thin and wiry," wrote Emmett Maum in The Sporting News on February 22, 1945, "and in no way has too much weight on his frame . . . He is so slight of build, in fact, that one can scarcely realize that the kid has a real blazing fast ball."
In January 1945, Gray pitched for the Navy All-Stars in the third annual Army-Navy New Hebrides series. Despite striking out 19, he lost the opening contest, 3-1, and was again beaten, 3-1, in game three. But with Navy wins in games two and four, Gray hurled the sailors to victory in the fifth and deciding game, striking out 13 in the 4-2 win.
Gray had run his strikeout total for the series to 46, eclipsing the previous record of 41, established the year before by the Army's Fred Martin.
Gray returned to the United States on a 30-day leave in July 1945, and worked out with the Tigers at Briggs Stadium. But it was not until November that he received his discharge while based at El Centro, California.
Gray's major league debut was on May 15, 1946, against the Washington Senators. He would pitch just three games in the majors that season for an 0-2 record.
After a little more seasoning in the minors, Gray was back with the Tigers in 1948, posting a 6-2 record in 26 appearances. Although Ted Gray did not live up to his wartime hype, he pitched in the major leagues over a 10 year period and won 59 games against 71 losses.
Created April 14, 2007.
Copyright © 2015 Gary Bedingfield (Baseball in Wartime). All Rights Reserved.