The St. Louis Browns Historical Society Official Website
a Mileur Media Group website at www.thestlbrowns.com
Ray Mileur, Publisher

Joe Grace
Date and Place of Birth: January 5, 1914 Gorham, Illinois
Died: September 18, 1969 Murphysboro, Illinois
Baseball Experience: Major League
Position: Outfield-Catcher
Rank: Storekeeper, Third Class
Military Unit: US Navy
Area Served: Pacific Theater of Operations
Major League Stats: Joe Grace on Baseball-Almanac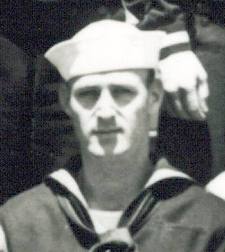 Joseph L "Joe" Grace was born on January 5, 1914 in Gorham, Illinois. A star athlete at Gorham High School, he signed with Paducah of the Kitty League in 1935 and got off to a great start. He batted .322 his rookie year and hit an astounding five triples in one game. But he was soon the center of a bitter squabble.
Paducah agreed to sell Grace to Memphis of the Southern Association. But later they received a better offer from the Boston Braves and the Memphis deal was off.
Tom Watkins, president of the Memphis club, appealed to William Bramham, head of the minor leagues, and Bramham awarded Grace to Memphis.
He batted .306 with 65 RBIs in 1936, and hit .297 with nine home runs and 67 RBIs in 1937. In his third season with Memphis, Grace batted .307 with 100 RBIs, and was sold to the St Louis Browns.
Grace made his major league debut on September 24, 1938. He appeared in 12 games and batted .340. He split the 1939 season between the Browns and Toledo of the American Association. And was with the Browns and Springfield of the Three-I League in 1940.
He became a full-time major leaguer in 1941, and rewarded the Browns with a .309 batting average and 60 RBIs in 115 games. His on-base percentage of .410 was sixth best in the American League.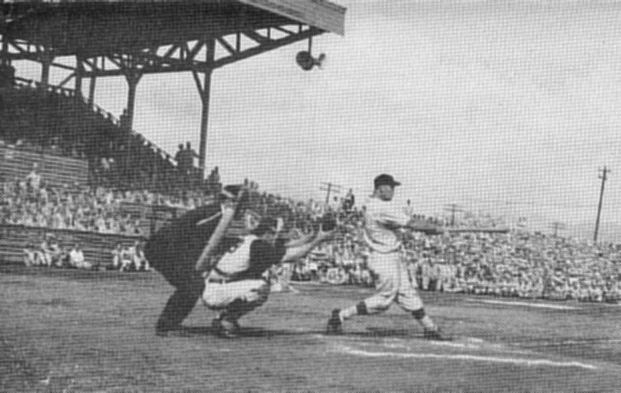 Joe Grace at-bat during the Service World Series in Hawaii in 1944.
No sooner had Grace's career in the big leagues got on track than military service beckoned and put it on hold for the duration. He joined the Navy on January 10, 1942 and was assigned to Great Lakes Naval Training Station. He was the commander of a recruit company at Great Lakes and played baseball in 1942 and 1943. In July 1942, he played for the Service All-Stars against the American League All-Stars at Cleveland.
In October 1943, Grace was assigned to Bainbridge for advanced training. By January 1944, he was on the move again and was assigned to the Pearl Harbor Submarine Base in Hawaii.
Grace played baseball at Pearl Harbor throughout the summer of 1944 and was selected to the 14th Naval District All-Star team despite being out of the team line-up for a month with a cracked rib.
In September 1944, he played for the Navy against the Army in the Service World Series, hitting a grand slam in the second game. In 1945, Grace toured Pacific islands with the Navy's Third Fleet baseball team.
Grace was discharged from service on October 26, 1945. He joined the Browns and was batting .230 through 48 games when he was traded to the Washington Senators. Grace regained his stroke with the Senators and in 77 games he hit .302 for a season total of .278.
He remained with the Senators through 1948 and then joined Sacramento of the Pacific Coast League. He remained a Coast Leaguer until 1953, playing with San Francisco and San Diego along the way. His best season was in 1950, when he batted .335 and accumulated 13 home runs and 91 RBIs for the San Francisco Seals.
Joe Grace later scouted for the Giants, Pirates and Mets. He was killed – along with his wife, Margie - in a four-car accident near his Murphysboro, Illinois, home on September 18, 1969. Joe was 55.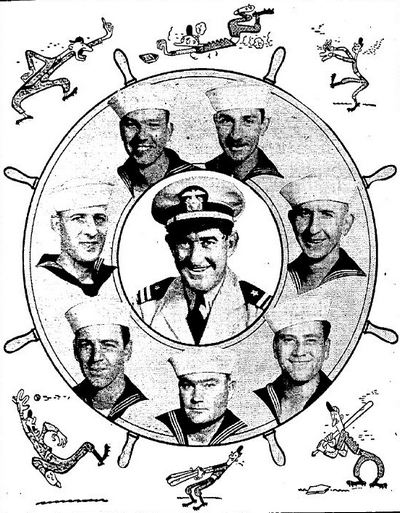 The Great Lakes team of 1943: Mickey Cochrane, inset.
Clockwise around the wheel: Earl Bolyard, Vern Olsen, Johnny Lucadello,
Johnny Mize, Eddie Pellagrini, Joe Grace and George Dickey
Created January 10, 2008. Updated April 3, 2008.
Copyright © 2015 Gary Bedingfield (Baseball in Wartime). All Rights Reserved.