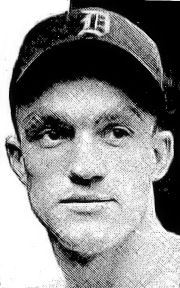 Johnny Gorsica was born John J P Gorczyca on March 29, 1915 in Bayonne, New Jersey. A graduate of West Virginia University, he signed with the Detroit Tigers organization as a first baseman in 1937, and was sent to Beckley of the Mountain State League where he batted .299 in 93 games.
A strong right arm, however, led to him converting to the mound in 1938 and he went 18-7 with a 3.48 ERA for Beckley in 1938. In 1939, Gorsica made the jump from Class D to Class A1 joining Beaumont of the Texas League, where he fashioned a 9-17 record with the last-place club. Despite his record Gorsica had pitched well and the Tigers invited him to spring training in 1940 where he earned a place on the team's roster.
Gorsica made his major league debut on April 22, 1940 and finished the year with a 7-7 record and 4.33 ERA. It was rumored during the summer that he had joined a Polish air squadron training in Canada for duty with the British Royal Air Force. But Gorsica had spent the winter with his wife and son, working in a drugstore in Beckley, West Virginia. "The only bombing he contemplates is on the pins at the bowling alley in Beckley," said a news dispatch at the time.
Gorsica's best performance as a major league pitcher probably came during the World Series in 1940, when he made two relief appearances against the Reds and allowed just one run in eleven-and-a-third innings.
He remained with the Tigers through 1944 as both a starter and reliever, and entered military service with the Navy on March 29, 1945, serving at Great Lakes Naval Training Station where he played baseball for Bob Feller. Among his many outings for Great Lakes during the year was a shutout relief performance against Dizzy Dean's All-Stars at Moline, Illinois on May 20, 1945.
Seaman Second-Class Gorsica was discharged from service at Bainbridge Separation Center on March 1, 1946. He returned to the Tigers in 1946 and made 14 relief appearances, appearing in a further 31 games in 1947. He played the next three seasons in the Pacific Coast League before retiring after 1950.
Johnny Gorsica passed away on December 16, 1998 in Charlottesville, West Virginia. He was 83.
Created February 25, 2008.