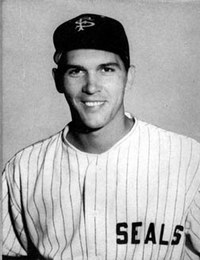 James W. "Jim" Gladd was born on October 2, 1922 at Fort Gibson, Oklahoma. A 6-foot-2 catcher, Gladd signed his first professional baseball contract with
Milford of the Eastern Shore League in 1940.
Gladd was with the New York Giants for spring training in 1941. On April 14, he played in a pre-season game against the Military Academy at West Point and hit a home run for the Giants in their 9-0 win.
Gladd spent the 1941 season with Salisbury of the North Carolina State League and joined Jersey City of the International League in 1942.
On December 7, 1942, exactly one year after the Japanese attack at Pearl Harbor, Gladd entered military service with the Army. He attended Artillery Officer Candidate School at Fort Sill in Lawton, Oklahoma in June 1943, and graduated a second lieutenant in August of that year. He served with the 33rd Field Artillery Battalion, 1st Infantry Division in Europe. The battalion's 105mm howitzer guns were in action in Normandy, Northern France, Rhineland, Ardennes-Alsace and Central Europe.
Gladd played for the 71st Infantry Division Red Circlers baseball team after the cease of hostilities in Europe.
The 71st Red Circlers team featured Ewell Blackwell, Bob Ramazzotti, Ancil Moore, Johnny Wyrostek, Garland Lawing, Ewell Blackwell, Russ Kern, Milt Ticco, Herb Bremer and Bill Ayres. The Red Circlers clinched a five-game Third Army Championship Series in August 1945 against the National League division winners - the 76th Infantry Division Onaways - to move on to the ETO World Series against the OISE All-Stars from France.
In front of crowds of 50,000 at Soldier's Field in Nuremberg, Germany, the Red Circlers won the first game on September 2, 9-2. The Red Circlers were beaten by Negro League star Leon Day in the second game, and lost 2-1 in game three on September 6. In the decisive fifth game the Red Circlers were again beaten 2-1 on a combined effort by Sam Nahem and Bobby Keane.
Gladd returned to baseball in 1946. He batted .269 in 50 games with Jersey City and made his major league debut with the New York Giants on September 9 against the Philadelphia Phillies. Gladd played for games before the season was finished and got one hit in 12 plate appearances.
Gladd played with the San Francisco Seals of the Pacific Coast League in 1947. He batted .257 in 86 games and had begun an affiliation with the league that would continue until 1955 with stops at Hollywood and Portland.
Jim Gladd passed away after suffering from heart disease on November 8, 1977 at his home in Long Beach, California.
Created June 7, 2007. Updated January 11, 2015
Copyright © 2015 Gary Bedingfield (Baseball in Wartime). All Rights Reserved.