Al Gionfriddo
Date and Place of Birth: March 8, 1922 Dysart, Pennsylvania
Died: March 14, 2003 Solvang, California
Baseball Experience: Major League
Position: Outfield
Rank: Private
Military Unit: Battery C, 331st Field Artillery US Army
Area Served: United States
Major League Stats: Al Gionfriddo on Baseball-Almanac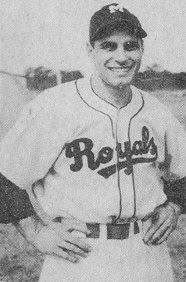 Albert F "Al" Gionfriddo was born on March 8, 1922 in Dysart, Pennsylvania. He signed with the Pittsburgh Pirates in 1941 and played for the Oil City Oilers his rookie year where he batted .334 and stole 21 bases in 91 games.
The 5-foot-6, left-handed hitting outfielder batted .348 with the Oilers in 1942 and hit 11 home runs while driving in 82. He was due to report to Albany of the Eastern League the next year but his career was put on hold February 9, 1943, when he entered military service with the Army. Gionfriddo was stationed at Camp Howze, an infantry replacement training center located near Gainesville, Texas, and one of the largest training centers in the country. Gionfriddo was a private with Battery C of the 331st Field Artillery but his time in the military was short-lived as he received a medical discharge on January 15, 1944.
Gionfriddo reported to Albany and was an Eastern League sensation. He batted .329 in 138 games and led the league with 50 stolen bases, 130 runs scored and 28 triples. He made his major league debut with the Pirates on September 23, and appeared in four games before the season was over.
Gionfriddo batted .284 as a regular outfielder in 122 games with the Pirates in 1945. The following year his average dropped to .255 and he was traded to the Dodgers in May 1947. He played just 37 regular season games with the Dodgers in 1947 but will always be remembered for his post-season play in the World Series against the Yankees when he caught DiMaggio's drive to left field in Game 6, saving an 8-6 win for the Dodgers at Yankee Stadium. The Yankees went on to win Game 7 and Gionfriddo never played another game in the major leagues.
He spent the next four years with Montreal of the International League, was with Fort Worth of the Texas League in 1952 and ended his career in the California League in the mid-1950s.
Gionfriddo became the general manager of the Santa Barbara Dodgers in 1963. He moved to Solvang, California in 1995, and was playing golf at Solvang's Alisal course when he suffered a fatal heart attack and collapsed on the fifth green on March 14, 2003. He was 81 years old.
Created February 19, 2008.
Copyright © 2015 Gary Bedingfield (Baseball in Wartime). All Rights Reserved.