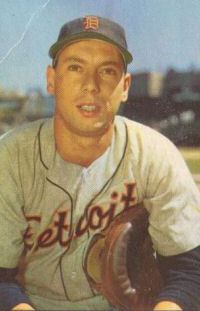 Myron N "Joe" Ginsberg was born on October 11, 1926 in New York. He grew up playing baseball of the sandlots of Detroit and was signed by the Tigers at the age of 17 in 1944. The Tigers sent the left-handed hitting catcher to Jamestown of the PONY League where he batted .271 in 88 games.
Ginsberg entered military service before the start of the following season and was stationed with the Army in the Philippines where he continued to play baseball with Kirby Higbe's Manila Dodgers. On January 3, 1946 – before 25,000 GIs at Rizal Stadium - Ginsberg helped the Dodgers beat the touring National League all-stars, 2 to 1, by scoring the winning run after getting a two-out single in the 14th inning.
The young catcher returned home at the end of 1946 and joined Williamsport of the Eastern League where he had a mediocre season batting just .220 in 1947. The year, however, he came alive and missed out on the Eastern League batting crown by .001 – his .326 average being second only to teammate Bruce Blanchard's .327.
Ginsberg was called up by the Tigers at the end of the 1948 season. He played in 11 games and continued his fine form at the plate with a .361 average. In 1949, Ginsberg was with Toledo of the American Association and returned to the Tigers in 1950. The following year he became their first-string catcher, playing 102 games and batting .260. In 1952, he played 113 games but his average dropped to .221.
Ginsberg remained in the majors as a back-up catcher until 1962, spending time with Cleveland, Kansas City, Baltimore, the White Sox, Red Sox and Mets. He is one of the few players whose professional career began before World War II and continued into the 1960s.
After retiring from baseball Ginsberg worked for the Jack Daniel's Distillery.
Created March 11, 2008.