Charlie Gilbert
Date and Place of Birth: July 8, 1919 New Orleans, Louisiana
Died: August 13, 1983 New Orleans, Louisiana
Baseball Experience: Major League
Position: Outfield
Rank: Unknown
Military Unit: US Navy
Area Served: Pacific Theater of Operations
Major League Stats: Charlie Gilbert on Baseball-Almanac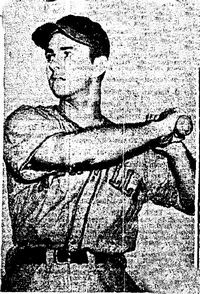 Charles M "Charlie" Gilbert was born on July 8, 1919 in New Orleans, Louisiana. Charlie came from an outstanding baseball-playing family. His father, Larry, had played for the Boston Braves and managed the New Orleans Pelicans. His older brother, Larry Jr, played for the Pelicans in 1938 but fell ill and tragically died in 1941. His younger brother Harold (also known as Tookie), would play for the Giants in the 1950s.
Gilbert played four years of high school ball at Jesuit High and four years of American Legion. He was on the 1936 Legion team that was beaten by Chicago in finals. He started his pro career at Nashville in 1939, where his dad was managing and batted .317 with 67 RBIs. Brooklyn purchased his contract at the end of the season but he suffered a leg injury with Dodgers in 1940 after playing 57 games and was sent to Montreal.
Gilbert was traded to the Cubs in May 1941 and remained with them until entering military service with the Navy in 1944. He was stationed at the US Naval Air Technical Training Center in Norman, Oklahoma, where he continued to play baseball and was with the team when they lost the 11th Naval District championship to San Diego MCB in 1944. He served at the Pearl Harbor Submarine Base in Hawaii in 1945 and rejoined the Cubs after being discharged on February 6, 1946.
Gilbert had managed only one hit in 13 at-bats when he was traded to the Phillies in June. With Philadelphia he batted .242 in 88 games and batted .237 the following season.
Gilbert finished his professional career in style in 1948 by returning to Nashville (where he'd played for his father in 1939) and batting .362 with 42 home runs and 110 RBIs.
Charlie Gilbert passed away in New Orleans on August 13, 1983.

Created November 17, 2007. Updated May 25, 2008.
Copyright © 2015 Gary Bedingfield (Baseball in Wartime). All Rights Reserved.