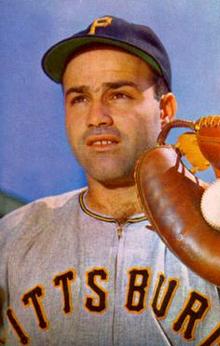 Joseph H "Joe" Garagiola was born on February 12, 1926 in St Louis, Missouri and grew up with Yogi Berra. Garagiola was 16 when the St Louis Cardinals signed him in 1942 and sent him to Springfield of the Class C Western Association where he batted .254.
Garagiola advanced to Columbus of the Class AA American Association in 1943 and was with them when he was called into military service on April 24, 1944. After taking basic training at Jefferson Barracks, Missouri, Garagiola was sent to Fort Riley, Kansas, where he quickly established himself as the catcher for the Fort Riley Centaurs with teammates Rex Barney and Pete Reiser.
Garagiola was sent to the Philippines in 1945 where he played ball for Kirby Higbe's Manila Dodgers. He was discharged from service in early 1946 and was just 20 years old when he joined the Cardinals, playing 74 games and batting .237. In 1947, Garagiola played 77 games for the Cardinals but spent most of 1948 back with Columbus.
He was back with St Louis in 1949 and was traded to the Pirates in June 1951. Garagiola has his best season in the majors with the Pirates in 1952, appearing in 118 games and batting .273.
Garagiola continued to play in the majors until 1954, and began a career in broadcasting the following year, calling Cardinals' games for KMOX radio. In 1961 joined NBC – an association that spanned almost 30 years.
Created March 10, 2008.