The St. Louis Browns Historical Society Official Website
a Mileur Media Group website at www.thestlbrowns.com
Ray Mileur, Publisher

Denny Galehouse
Date and Place of Birth: December 7, 1911 Marshallville, Ohio
Died: October 14, 1998 Doylestown, Ohio
Baseball Experience: Major League
Position: Pitcher
Rank: Unknown
Military Unit: US Navy
Area Served: United States
Major League Stats: Denny Galehouse on Baseball-Almanac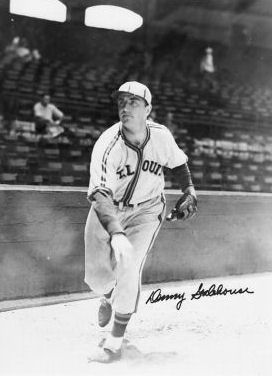 Dennis W "Denny" Galehouse was born on December 7, 1911 in Marshallville, Ohio. He signed with Johnstown of the Middle-Atlantic League in 1930 and was 7-3 in 23 games. The following year, with the same club, Galehouse 13-13 and advanced to the Fort Wayne of the Class B Central League in 1932.
Galehouse spent 1933 with New Orleans and opened the 1934 season with the Cleveland Indians but made just one brief appearance before being sent back to the Southern Association club. He spent most of 1935 with Minneapolis of the American Association but joined the Indians as a regular in 1936. Galehouse was 8-7 that year, then 9-14 in 1937. He was traded to the Red Sox for the 1939 season, sold to the Browns for 1941, and reached double figures in wins (12-12) for the first time in 1942.
In 1943, with the Browns, he pitched a career high 224 innings, was 11-11 and had a 2.77 ERA. He began the 1944 season working in an Akron, Ohio war plant but gave in to Browns' general manager Bill DeWitt's plea to report to wherever the Browns were playing on weekends and made 24 regular-season appearances for a 9-19 record. He pitched in two 1944 World Series games against the Cardinals, winning Game 1 (2-1) and losing Game 5 (2-0).
Galehouse hoped to continue his war job in Akron but received orders to report for military induction on April 26, 1945. Galehouse served with the Navy at Great Lakes Naval Training Station, where he was a key fixture on the ball team's pitching staff. He was discharged on December 15, 1945, and returned to the Browns for the 1946 season. He continued to pitch in the majors until 1949, spending the last two-and-a-half seasons back with the Red Sox.
Denny Galehouse passed away on October 14, 1998 in Doylestown, Ohio. He was 86.
Created April 18, 2008.
Copyright © 2015 Gary Bedingfield (Baseball in Wartime). All Rights Reserved.