Larry French
Date and Place of Birth: November 1, 1907 Visalia, California
Died: February 9, 1987 San Diego, California
Baseball Experience: Major League
Position: Pitcher
Rank: Lieutenant
Military Unit: US Navy
Area Served: European and Pacific Theaters of Operations
Major League Stats: Larry French on Baseball-Almanac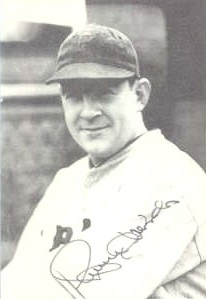 Lawrence H "Larry" French was born in Visalia, California on November 1, 1907. He attended the University of California at Berkeley before embarking on a professional baseball career.

Before entering military service on January 8, 1943, French had won 197 games with the Pirates, Cubs and Dodgers. He appeared in three World Series, was selected for the 1940 National League all-star team, and his .789 winning percentage (15 wins and 4 losses) in 1942 was the circuit's best.

French served as a lieutenant with the US Navy Supply Corps, providing spare parts for landing craft. He played his only service baseball games of the war in England, after arriving there in December 1943. In his first outing in mid-April, French allowed just three hits in an 8-1 win over an opposing Navy team.
Lieutenant French later served on the USS New York during the Okinawa invasion. He was recalled to active service during the Korean War and made the Navy a career, retiring in 1969 having attained the rank of captain.

Larry French passed away in San Diego on February 9, 1987. He was 79.
Created June 28, 2006. Updated April 13, 2007.
Copyright © 2015 Gary Bedingfield (Baseball in Wartime). All Rights Reserved.