Al Flair
Date and Place of Birth: July 24, 1916 New Orleans, Louisiana
Died: July 26, 1988 New Orleans, Louisiana
Baseball Experience: Major League
Position: First Base
Rank: Unknown
Military Unit: 2nd Army Headquarters US Army
Area Served: Pacific Theater of Operations
Major League Stats: Al Flair on Baseball-Almanac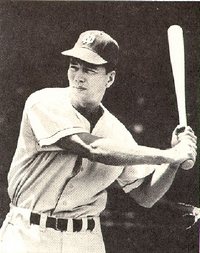 The 6-foot-4, left-handed hitting LSU graduate began his pro career with Moultrie in 1937. He batted .345 for the team in 1938 and joined the Red Sox in 1941. He played ten games at first base in what was to be his only season in the major leagues.
Flair entered military service with the Army in January 1942 and was based at Camp Shelby, Mississippi and Camp Sutton, North Carolina with the 166th Field Artillery Regiment that year. He was honored with an Al Flair Day at Franklin Stadium, New Orleans on May 10, 1942, while visiting his parents on furlough from the Army.
In 1944 he was with the 2nd Army Headquarters in Memphis, and played on the 8th Army Headquarters team managed by Hugh Mulcahy that barnstormed around Southwest Pacific bases in late 1944. He was later stationed in the Philippines and Japan.
Flair returned to professional baseball in 1946. He was with the Pelicans in 1947 and batted .308 with 24 home runs and 128 RBIs. He retired from the game after playing with Fort Worth in 1951.
Al Flair passed away in New Orleans on July 26, 1988, two days after his 72nd birthday.
Created November 17, 2007.
Copyright © 2015 Gary Bedingfield (Baseball in Wartime). All Rights Reserved.