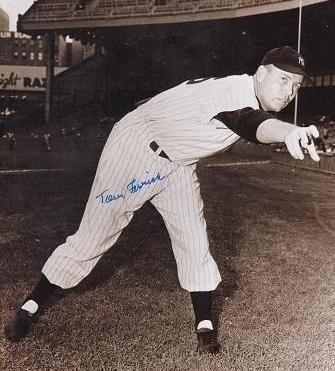 Thomas J "Tom" Ferrick was born on January 6, 1915 in New York. He was signed by the New York Giants in 1936 and sent to Greenwood of the Cotton States League where he was 13-8 with a 2.17 ERA.
In 1937, Ferrick was a 20-game winner with Richmond of the Piedmont League but played just eight games for Jersey City of the International League in 1938 and was released by the Giants at the end of the year. Ferrick was out of organized baseball the next two years.
Ferrick was signed by the Philadelphia Athletics as a free agent in 1941 and made his major league debut on April 19. Appearing in 36 games – mostly in relief – Ferrick was 8-10 with a 3.77 ERA.
The Cleveland Indians selected Ferrick off waivers at the end of the season and he performed the same role in Cleveland as he had in Philadelphia, making 31 appearances for a 3-2 record and outstanding 1.99 ERA.
Ferrick entered military service on Christmas Day 1942 and was at Great Lakes Naval Training Station where he was a Shipfitter, Third-Class and regularly played baseball. Ferrick was sent to Hawaii in 1944 and played ball at Kaneohe Bay Naval Air Station as well as playing in the 1944 Army-Navy Service World Series.
In 1945, Ferrick, now a Chief Petty Officer, participated in the Navy's Western Pacific Tour, playing for the 5th Fleet team. Following the tour, Ferrick was assigned to the command under Admiral John H Hoover which was handling ship assignments. Along with Johnny Riggs, he supervised physical exercise for 440 men attached to the command. Ferrick later said, "It was an invigorating experience, and fortunately, we didn't hear any shots fired."
Ferrick was discharged from service on January 15, 1946 and returned to the Indians. He made nine relief appearances before being sold to the St Louis Browns in June. He later played for the Senators and was with the Yankees when his victory in relief in Game 3 of the 1950 World Series against the Phillies marked the highlight of his career.
Ferrick pitched in the majors until 1952 and remained in baseball for many years as a coach and scout.
He passed away in Lima, Pennsylvania on October 15, 1996, aged 81.
Created March 31, 2008.