Edward I "Eddie" Feinberg was born on September 29, 1917 in Philadelphia, Pennsylvania. He grew up in South Philadelphia and played sandlot baseball.
Feinberg gave up his part-time job working on the Feinberg family's laundry truck to sign with the hometown Phillies in 1937. After a sensational rookie season for Centreville of the Eastern Shore League, in which he batted .334 (fourth best in league) with 15 home runs and 80 RBIs, he moved up to Montgomery of the Southeastern League.
Despite his average dipping to .238, the slick-fielding shortstop was called up to the Phillies in September and he made his major league debut on September 11, 1938, against the Boston Braves. Feinberg appeared in 10 games for the Phillies collecting three hits in 20 at-bats.
The Phillies liked the look of the young shortstop during spring training in 1939, but felt he needed further seasoning. They sent him to the minors but in May he was recalled to replace George Scharein who was out two weeks with an injured thumb. Feinberg played six games, collecting four hits in 18 at-bats.
He played for Scranton in the Eastern League the remainder of the season where a knee injury spelled the end of his professional career. Feinberg was sold to the Washington Senators in 1940, and he was with the Greenville Spinners of the South Atlantic League that year. He batted .280 but quit the game at the end of the year.
"Washington paid lousy and I knew I could make more money playing semi-pro," he recalled some years later. So that's what he did. He played for Lansdale in the Eastern Pennsylvania League, Kensington in the Philadelphia League and for the SPHAS, an independent team, and for the truck-drivers' team - Local 107 - in the Union League.
On July 26, 1943, Feinberg entered military service with the Army. Private Feinberg fought through Europe with the 424th Infantry Regiment of the 106th Infantry Division. On July 24, 1945, he was back in baseball flannels, playing shortstop for the division team against the 36th Infantry Division. The game was held in Karlsruhe, Germany, and its purpose was to dedicate a local stadium as "Ardennes Stadium" in honor of the men of the 106th who had fought so valiantly at the Battle of the Bulge.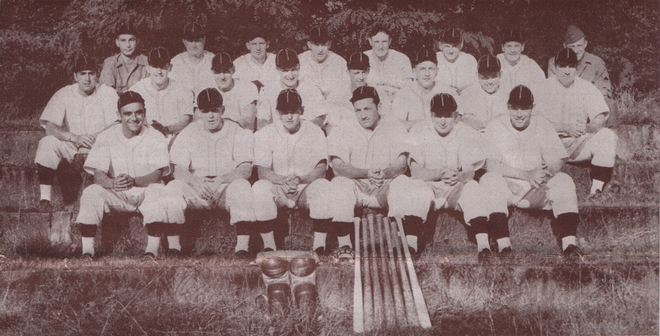 106th Infantry Division Cubs in Germany, 1945 (Eddie Feinberg is back row, second right)
Feinberg returned home to Philadelphia after his military discharge. He later owned the New Clinton Bar & Restaurant in Center City, Philadelphia before retiring to Florida in 1980.
Eddie Feinberg passed away on April 20, 1986 in Hollywood, Florida. He was 69 years old.
Created January 6, 2008.