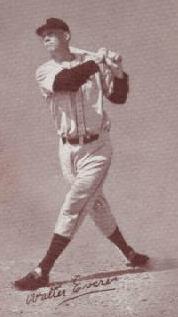 Walter A "Hoot" Evers was born on February 8, 1921 in St Louis, Missouri but grew up in Collinsville, Illinois. A standout athlete at Collinsville High School, Evers played baseball at the University of Illinois for Walter Roettger. He signed with the Detroit Tigers in 1941 and played at Winston-Salem of the Piedmont League before joining the Tigers for one game in September.
In 1942, Evers was with Beaumont of the Texas League where he batted .322 with 92 RBIs in 152 games. He entered military service with the Army Air Force in November 1942 and served at Waco Army Air Field, Texas, playing baseball for the Waco Wolves under manager Birdie Tebbetts. Evers remained at Waco throughout the war years. "I'm one of the professionals who has been lucky enough to keep playing," he told The Sporting News in July 1945. "We play a good brand of ball here at Waco and we meet good teams, some of them with fine pitching."
Corporal Evers was discharged from service in December 1945 and joined the Tigers. He played 88 games in 1946 and was an American League all-star by 1948. In a major league career that lasted until 1956, Evers played for the Red Sox, Giants, Indians and Orioles. His best season was with the Tigers in 1950, when he batted .323 and drove in 103 runs with 21 homers and a league-leading 11 triples.
Beginning in 1957, Evers spent 14 years with the Cleveland Indians as a scout, assistant farm director, director of personnel, vice-president, assistant to the president, acting general manager and coach before he returned to the Tigers in August 1970 as director of player development. In 1978, he became a Houston-based special assignment scout for the Tigers.
Hoot Evers passed away in Houston, Texas on January 25, 1991. He was 69.
Created March 31, 2008.