Date and Place of Birth: May 19, 1915 King's Mountain, North Carolina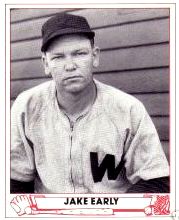 Jacob W "Jake" Early was born on May 19, 1915 at King's Mountain, North Carolina. He signed a pro contract with Jacksonville of the South Atlantic League in 1936 and batted a promising .299 with 68 RBIs.
The following two seasons he played with Charlotte in the Piedmont League, batting .316 in 1938 and earning promotion to the Washington Senators the following year.
Early quickly established himself as the Senators' number-one receiver, possessor of an outstanding throwing arm, a master at handling knuckleball pitchers, and an American League all-star selection in 1943.
Early was an incessant chatterbox. He once caused Ted Williams to drop his bat and hold his sides with laughter when he went into a tobacco auctioneer's routine that included a rendition of "Turkey in the Straw."
He entered military service on March 15, 1944. Serving with the Army, he soon found himself in Europe with an artillery unit of the 87th Infantry Division and saw action during the Battle of the Bulge. "If you think catching knucklers is hard work … it's nothing to firing those 105s when you're knee deep in mud, and when you're playing for keeps with every shot," he told Frank O'Neill in The Sporting News on March 21, 1946. "It's easier than trying to hit a Jerry tank when a miss may cost the lives of some of your buddies up ahead."
Talking about the Battle of Bulge, Early explained how the Germans got too close for comfort. "Their tanks were less than a mile from the position of my battery. At least one company of their infantry was so close we could see them."
Early returned to the Senators in 1946. "How do you think the war will affect you?" asked O'Neill at spring training.
"If the way I feel right now is an indication, I'm right back where I was in 1943," Early answered.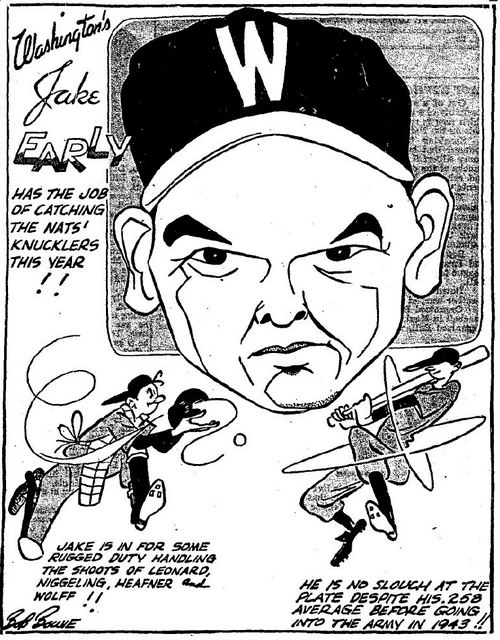 But two years away from the game had made a difference. He had trouble hitting in 1946 and batted just .201 in 64 games. He was traded to the Browns in December and played 87 games, batting .224 and getting traded back to the Senators for 1948. He remained with Washington as a back-up catcher through the 1949 season. He played for Minneapolis in the American Association from 1950 to 1953, and managed at Charlotte, Rock Hill and Statesville before retiring from the game in 1963.
Early returned home to King's Mountain where he worked as a police officer and recreation director. Jake Early retired to Florida in 1970 and passed away at Melbourne, Florida on May 31, 1985. He was 70 years old.
Created December 16, 2007. Updated January 11, 2015.