Red Durrett
Date and Place of Birth: February 3, 1921 Sherman, Texas
Died: January 17, 1992 Waxahachie, Texas
Baseball Experience: Major League
Position: Outfield
Rank: Unknown
Military Unit: US Marine Corps
Area Served: Pacific Theater of Operations
Major League Stats: Red Durrett on Baseball-Almanac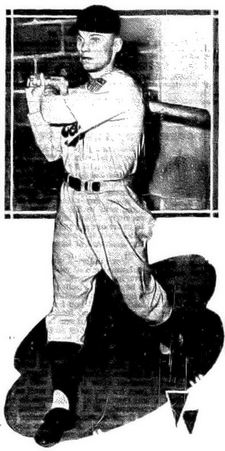 Elmer C "Red" Durrett was born on February 3, 1921 in Sherman, Texas. A fleet-footed outfielder, he was playing semi-pro ball in Oklahoma when spotted by Ted McGrew, a scout for the Brooklyn Dodgers, and signed with the Johnstown Johnnies of the Penn State League. During his rookie season – 1941 – Durrett batted .307 in 91 games with seven homeruns.
A promising career was then put on hold as military service beckoned and Durrett joined the Marines. He took boot training at San Diego and then headed for the Pacific where he saw combat at Guadalcanal. He suffered malaria, shell-shock, dysentery and a foot infection and was invalided home on a hospital ship.
Durrett spent five months in hospital in California and was received a medical discharge after 21 months of service. He reported to the Brooklyn Dodgers' spring training camp at Bear Mountain, New York in 1944. His eyes were still glazed, his skin sallow and his nerves raw. On two occasions when the guns were fired at nearby West Point, he instinctively threw himself to the ground.
But Durrett gradually began to adjust. He was assigned to Montreal of the International League for the 1944 season and promptly tore apart opposing pitchers. In 142 games he batted .291 with 18 homeruns and 86 RBIs. In September, he was called up by the Dodgers and played 11 games getting five hits in 32 at-bats for a .156 average.
In 1945, Durrett started the season with Brooklyn, but after appearing in eight games he was back with Montreal where he batted .273 and banged out 21 homeruns. Durrett never made it back to the majors but continued to play in the minor leagues with the Cincinnati Reds' organization until 1947. He then made a brief comeback in 1949 and 1950 with Greenville and Syracuse.
Red Durrett passed away on January 17, 1992 in Waxahachie, Texas. He was 70 years old.
Created April 13, 2008.
Copyright © 2015 Gary Bedingfield (Baseball in Wartime). All Rights Reserved.