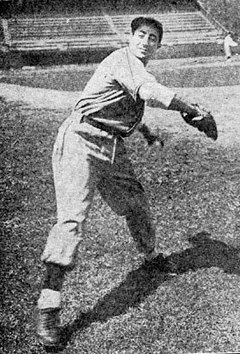 Mauro P. Duca, son of Italian immigrant parents Leonardo and Maria Duca, was born in Marlborough, Massachusetts on January 3, 1917. A left-handed pitcher, he was chosen for the Class A division Civilian Conservation Corps (CCC) All-America team in 1938, after winning 20 games and losing just one, while batting .600 for his team in oregon. He was signed by scout, Howard Maple, in March 1939 and joined the Twin Falls Cowboys of the Pioneer League. However, he was released by the club in late May. Duca was briefly with the Sherbrooke Braves of the Quebec Provincial League in 1940, before returning
to Massachusetts, where he worked as a laborer with the Water Depot
before entering military service
.


While serving with the Army Air Force and stationed at Lockbourne Army Airfield in Ohio, Duca married Bertha La Pier in November 1942.
Duca served with the Army Air Force in England during WWII. He was with the 78th Fighter Group at Duxford and pitched for the 78th Thunderbolts from 1943 to 1945, as well as taking part in track events. In September 1943, Duca pitched the Thunderbolts to the final of the ETO World Series, hurling a 3-hitter in the first round against the Port Ramblers, defeating Pacific Coast League hurler Chuck Eisenmann and the CBS Clowns in the semi-finals, but losing, 6-3, to the 116th Infantry Regiment Yankees in the final.
Mauro Duca, who also served during the Korean War, passed away on July 9, 1982, aged 65. He is buried at Arlington National Cemetery in Virginia.
Created February 5, 2007. Updated March 18, 2018
Copyright © 2015 Gary Bedingfield (Baseball in Wartime). All Rights Reserved.