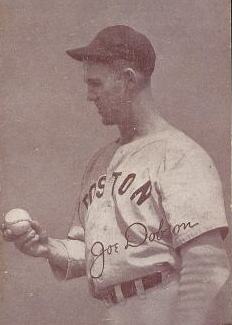 Joseph G "Joe" Dobson was born on January 20, 1917 in
Durant, Oklahoma
. He began his pro career with
Troy
of the Alabama-Florida League in 1937 where he won 19 games. He was 11-7 with a 3.29 ERA for
New Orleans
of the Southern Association in 1938, and made his major league debut with the Cleveland Indians on April 26, 1939.
He was traded to the Red Sox in December 1940 where he enjoyed his best seasons, starting with a 12-5 year in 1941. Dobson worked at the Bethlehem-Hingham Shipyard following the close of the 1943 season. He entered military service with the Army at Fort Devens, Massachusetts, on January 12, 1944, and was later assigned to Camp Wheeler, Georgia, where he played baseball regularly with the Camp Wheeler Spokes.
On February 20, 1945, while traveling from Camp Wheeler, Georgia to Washington on a three-day pass, Sergeant Dobson visited Fenway Park. "Ask me some names of gun parts," he said to Red Sox secretary Phil Troy. "I know lots of guns and I know how to pull 'em apart. I can assemble 'em, too, without havin' any parts left, big or little."
Talking about his ball playing at Camp Wheeler, Dobson said "I must have pitched at least 24 games and I lost only three. We had some good games, too. Among members of my club," he said, "were Cecil Travis, former Senator; Johnny Frye who tried out at first with St. Louis; Ken Jungles who was up with Cleveland. We also had some double-A players in our league. "But they've all gone somewhere now."
Dobson made another visit to Fenway Park during a 10-day furlough in May 1945.
Teammates at Camp Wheeler included Bobby Bragan, Lew Chandler, Jim Perkins and John Logan. In June 1945, Dobson and other players at Camp Wheeler helped conduct a training camp in Macon, Georgia for young local ballplayers.
Dobson was discharged from service on February 15, 1946. He returned to the Red Sox in good form and was 13-7 with a 3.24 ERA that season. His best year was 1947 when he posted an 18-8 record for the Red Sox with a 2.95 ERA and was named to the All-Star team the following year. Dobson remained with the Red Sox through 1950. He later pitched for the White Sox and returned briefly to the Red Sox in 1954.
After retiring as a player, Dobson continued to work for the Red Sox and spent many years as their minor league groundskeeper. He passed away on June 23, 1994 in Jacksonville, Florida, aged 77.
Created February 13, 2008.