Date and Place of Birth: February 12, 1917 San Francisco, California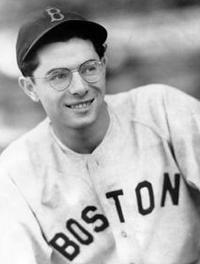 Dominic P "Dom" DiMaggio was born on
February 12, 1917 in San Francisco, California. The youngest of three baseball-playing brothers and performing in the shadow of his brother Joe, Dom had a major league career to be proud of.
DiMaggio joined the San Francisco Seals of the Pacific Coast League in 1937. Nicknamed "The Little Professor" because of his small stature (5-foot-9) and eyeglasses, he batted .361 for the Seals in 1939 and was purchased by the Boston Red Sox.
He batted .301 in 108 games his rookie year and followed that with a couple of solid seasons, during which time he served as an aircraft spotter. He failed an Army physical due to poor eyesight but requested an examination by Navy doctors and was called to active duty with the Navy in October 1942.
DiMaggio served at Norfolk Naval Training Station during 1943, where he played baseball regularly.
He was sent to Australia in 1944 where he remained for the duration of the war, managing the Naval Depot Supply team in Brisbane. In addition to managing the team and playing outfield, he also played shortstop, did a little pitching and had to lay out the field before the games.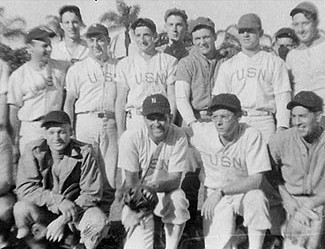 In September 1944, the Service World Series was scheduled between the Army and Navy in Hawaii. The Navy pulled out all the stops to make their team the best possible for this prestigious event. Dom DiMaggio and Phil Rizzuto were flown in from Australia, while others were recruited from Great Lakes in Illinois and Sampson Naval Training Station in Maryland. The Navy easily clinched the series title winning nine of the eleven games played.
DiMaggio was discharged from service in January 1946. He was back with the Red Sox for the regular season and hit .316 to help Boston to the World Series where they were defeated by the Cardinals in seven games.
An outstanding defensive centerfielder, DiMaggio continued to hold down that spot for the Red Sox through the 1952 season. He retired in May 1953, after appearing in only three games that year as a pinch hitter. He was named to the American League All-Star team seven times, had a 34-game hitting streak in 1949 and led the league in runs scored in 1950 and 1951. He played in 1399 games and finished with a career batting average of .298.
DiMaggio later started a successful company in New Hampshire that manufactured carpeting for cars. which he ran
until his retirement in 1983. He remained active in many charitable and civic causes, supporting medical and education institutions, even serving on the board of trustees at St. Anselm's College in New Hampshire. He also helped found the AFL franchise that eventually became the New England Patriots.
He was inducted into the Boston Red Sox Hall of Fame in 1995. Dom DiMaggio passed away on May 8, 2009, aged 92. "He was the most wonderful, warm, loving man," Emily, his wife of 61 years, said. "He adored his children, and we all adored him."
Created July 28, 2007. Updated May 9, 2009.
Copyright © 2015 Gary Bedingfield (Baseball in Wartime). All Rights Reserved.