Emerson Dickman
Date and Place of Birth: November 12, 1914 Buffalo, New York
Died: April 27, 1981 New York, New York
Baseball Experience: Major League
Position: Pitcher
Rank: Petty Officer
Military Unit: US Navy
Area Served: United States
Major League Stats: Emerson Dickman on Baseball-Almanac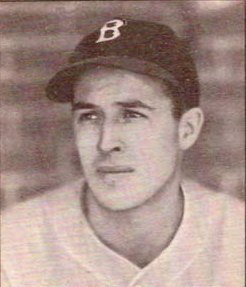 George E "Emerson" Dickman was born in Buffalo, New York on November 12, 1914. As a sophomore at Washington and Lee University, Virginia in 1935, Dickman
led the team to the Southern Conference championship with a record of 17 victories against just four defeats and two ties. Dickman was the winning pitcher in eight of those victories, a record which still stands. He also struck out 73 batters for the season. In 1936 he batted .321 and signed with the Boston Red Sox following his junior year.
He made his debut with Boston, and only major league appearance of the year, on June 27, 1936, in a 14-5 loss at Cleveland. Dickman hurled one inning, allowing two runs and striking out two. He spent the remainder of 1936 with Rocky Mount where he pitched in nine games and came up with five wins and a superb 1.86 earned run average.
Dickman pitched at Little Rock in 1937. He rejoined the Red Sox a regular on the pitching staff in 1938. He pitched in 32 games, making 11 starts for a 5-5 won-loss record and an ERA of 5.28. He followed that with 48 appearances in 1939 for an 8-3 record, and made 35 appearances in 1940.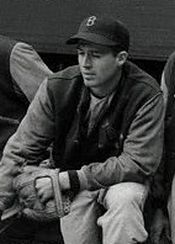 On October 16, 1940, Dickman registered along with fellow Americans between the ages of 21 and 35 for the first peacetime draft in the nation's history. He received such a low draft number it was expected he would be in military service by June 1941.
Dickman began the 1941 campaign with Boston but off to a poor start with a 6.39 ERA after nine games. He spent the remainder of the year with the Louisville Colonels where he was 7 and 4.
In March 1942, Dickman enlisted in the Naval Reserve. He was released by Red Sox on April 10, 1942 and played briefly for Louisville before entering military service.
Dickman served at the Merchant Marine Academy at King's Point, New York where he was in charge of a six-team baseball league.
After leaving military service in 1946, Dickman played semi-pro baseball with the Mount Vernon Scarlets in New York. He later played for Madison Colonels semi-pro outfit in New Jersey, and in January 1949 he was named head baseball coach at Princeton University. He remained at Princeton until 1951.
Emerson Dickman was 66 years old when he passed away on April 27, 1981 in New York. He was inducted in the Washington and Lee Athletic Hall of Fame in 1996.
Created March 26, 2007.
Copyright © 2015 Gary Bedingfield (Baseball in Wartime). All Rights Reserved.