You can sponsor this page for $5.00 and have your own message appear in this space.
Click here for details.

Bill DeZerne
Date and Place of Birth: January 22, 1921 Albuquerque, New Mexico
Baseball Experience: Minor League
Position: Pitcher
Rank: Staff Sergeant
Military Unit: Ordinance Corps, US Army
Area Served: European and Pacific Theaters of Operation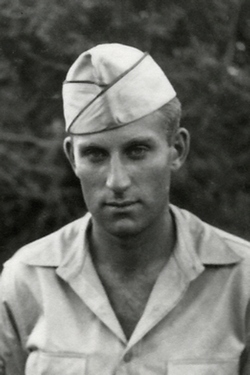 Wilbur R. "Bill" DeZerne was born in Albuquerque, New Mexico on January 22, 1921. His professional baseball career began in 1942 with the Bristol Twins, a New York Giants farm club in the Class D Appalachian League. But his career was put on hold in December 1942, when he was called to military service. Bill picks up the story:
"I am 93 years old. Remembering our team, the Manila Dodgers, of so long ago (70 years) brings back many fond memories. We were a great team managed by Kirby Higbe, Brooklyn Dodgers. I remember we played in very hot weather. Because I was accustomed to heat, I was called upon to pitch in more than my share of games.

"By way of background, it might be of interest to explain how I got to Manila. First, let me tell you about one of my business assignments years later, as Director of Audits for the U.S. Treasury Department in Washington, D.C. In going over my plan for an audit of a sensitive Bureau, I was asked by the Deputy Director if I had been in the Philippines during World War II. He then asked if I had played ball with the Manila team. When I said yes, he stated that he recognized me because he had attended ball games there and had watched me play. So you see it's a small world out there. Also, I got great cooperation from him during our audit!

"As for my military baseball career, after basic training at Raritan Arsenal in New Jersey, in January 1943, I was invited to attend the Ordinance School at Aberdeen, MD where I later graduated first in class from the Artillery School. While at Aberdeen, I was able to play for the Post team as a starting pitcher. We had a strong team and schedule that included the Philadelphia Athletics and Baltimore Orioles. I did quite well here and was recognized with a Certificate of Outstanding Performance in Baseball.

"After graduating from the Ordinance School, I returned to my unit at Fort Knox, KY. Upon arrival the Commanding General asked that I join his Post baseball team. Ft. Knox also had a big-time schedule. Their top pitcher was John Grodzicki, St. Louis Cardinals. We were in a military championship at Camp Campbell, KY in June 1943. John started but ran into trouble, so I left right field and came into pitch in the 5th inning. I faced a team made up of mostly Cincinnati Reds players. As I recall I managed several strikeouts, three hits, and no runs to close out the game. Some of the officers in attendance said it was the best performance by a pitcher that they had seen all year. (I am still looking for a newspaper clipping of that game.)

"When I returned to Ft. Knox, I received word that Gen. Harris at Aberdeen wanted me to return there as an Artillery Instructor. Upon returning I also rejoined the Post ball team for the remainder of the season.
"In February 1944 Gen. Harris selected me to go to New York City to give a public demonstration of our Army weapons. The exhibition, which was held at the Chrysler Building, attracted many thousands of visitors. Upon returning to Aberdeen, I was assigned to a new Ordinance Battalion as an expert artillery technician. We later moved on to the Mississippi Ordinance Plant (MOP) at Flora. I joined the ball team there and had my most successful season with double digit wins. We played mostly in the South, including such teams as Mississippi State University and major air bases at Meridian, MS and Monroe, LA which had several major league players on their rosters.

"From MOP, our Battalion was sent overseas to England. While there, I played for the G25 Generals, pitching six straight shut-outs, and was selected by Ted Kleinhans of the White Sox to start an All-Star game at Wembley Field in London. Unfortunately, the game was rained out, and our Battalion was shipped to France. A big disappointment! After service in France, the war ended in Europe, and we were on our way to Manila for the planned invasion of Japan. We traveled the Atlantic and Pacific oceans for about 20,000 thousand miles on the USS General Sturgis. We were all alone in dangerous waters; I feel lucky to be here to write these memories.

"In Manila we formed a Company league. During that period I pitched against a team with Early Wynn (Washington) and Joe Garagiola (St. Louis) who later was catcher for the Dodgers. We also had another fine catcher, Joe Ginsberg (Baltimore). When they formed the Dodger team, I was invited for a try-out. What a pitching staff—Higbe, Wynn; and Hern and Peterson from the Cincinnati Reds. I was lucky to make the team. Because I was always a solid hitter, my bat won them over as well as my 90+ mph fastballs. This was my road to the Manila Dodgers. Without a doubt my ball playing days during this period remain some of my fondest memories.

"After returning from the service, I attended Benjamin Franklin University in Washington, D.C. under the G.I. Bill to get started on my career as a Certified Public Accountant (CPA). I hold a Bachelor degree and a Master's degree in Accounting, plus several certificates of professional achievements, including the Treasury Exceptional Service Award and charter member status in the Senior Executive Service of the United States. Mrs. DeZerne and I were married before the war in 1942. We have two daughters and three grandchildren, all successful university graduates."
Thanks to Bill DeZerne and his daughter, Sandra Fostek, for sharing this information.
Created January 20, 2014
Copyright © 2015 Gary Bedingfield (Baseball in Wartime). All Rights Reserved.