Date and Place of Birth: February 15, 1919 Trumbauersville, Pennsylvania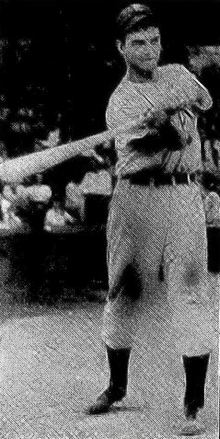 Robert S "Ducky" Detweiler was born on February 15, 1919 in Trumbauersville, Pennsylvania. He signed with the Philadelphia Athletics in 1939 and played at Federalsburg of the Eastern Shore League where he hit .292 in 98 games as a second baseman-outfielder and led the team to the league pennant.
In 1940 he advanced to the Wilmington Blue Rocks of the Class B Interstate League, where he moved to third base and batted .313. The following year, Detweiler was traded to the Boston Bees organization and played for Bridgeport of the Interstate League where he batted .308. The year after DiMaggio's 56-game hitting streak, Detweiler went on a hitting rampage of his own as he hit safely in 40 consecutive games for Evansville of the Three-I League. The 23-year-old batted .340 for the season with 106 RBIs and was called up to Boston in September. He made his major league debut on September 12, 1942 and appeared in 12 games batting .318.
"Ducky is an aggressive, somewhat chesty, player with a sharp tongue," wrote The Sporting News on August 13, 1942. "He tackles everything that comes in the general direction of third base and his fielding has been one of the features of Evansville's play this year. They never come too hot for him, and he has made some sensational plays in shortstop territory."
Detweiler was inducted in the Army with a group of 75 draftees from the Quakertown, Pennsylvania, draft board on January 5, 1943, and left for induction at the New Cumberland Reception Center on January 12. Assigned to the 1301st Service Unit, he regularly played for the Reception Center baseball team with teammates Pat Mullin, Tommy Hughes, Fred Caligiuri and Harry Marnie.
In 1943, Private First-Class Detweiler was assigned to Camp Siebert in Alabama, a replacement training center for the Chemical Warfare Service. Along with Tommy Hughes, Pat Mullin and Steve Sundra, Detweiler helped make the Camp Siebert Gashouse Gang one of the dominant forces in southern states military baseball during 1944 and 1945.
While stationed at Camp Siebert Detweiler married the former Miss Jean Cahall of Federalsburg, Maryland, in July 1944. Tommy Hughes was best man.
Detweiler returned to the Braves in 1946, but made just one pinch-hitting appearance before being assigned to Rochester of the International League where he batted just .236. In 1947, Detweiler was released at his own request and returned to Federalsburg of the Eastern Shore League (where he began his pro career in 1939) batting .352 with 29 home runs and 133 RBIs. Detweiler continued to play in the minor leagues until 1952.
Created March 11, 2008.