Chubby Dean
Date and Place of Birth: August 24, 1915 Mount Airy, North Carolina
Died: December 21, 1970 Riverside, New Jersey
Baseball Experience: Major League
Position: First Base-Pitcher
Rank: Private
Military Unit: USAAF
Area Served: Pacific Theater of Operations
Major League Stats: Chubby Dean on Baseball-Almanac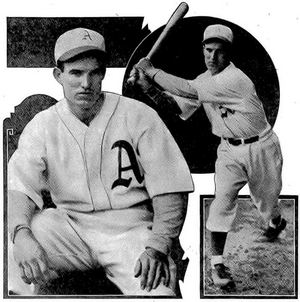 Alfred L "Cubby" was born on August 24, 1915 at Mount Airy, North Carolina. Known to his family by his middle name of Lovill, Dean graduated from Oak Ridge Military Academy and entered Duke University where he pitched and played in the outfield for Jack Coombs' freshman team. Dean was 5-3 on the mound and batted .450.
He signed with the Philadelphia Athletics after his sophomore year at Duke and joined the team at their spring training camp in February 1936. When the regular season came around Dean found himself with the big league club and made his major league debut on April 14, 1936. He appeared in 111 games for the Athletics that season as a pinch hitter and first baseman (a position he never previously played) and batted .287 with 48 RBIs.
Dean made 104 appearances for the Athletics in 1937, including two as a pitcher, and batted .262. In 1938, Dean was used sparingly by the Athletics as a pitcher and pinch-hitter, but became a full-time member of the pitching staff in 1939, appearing in 54 games (second most in the American League) for a 5-4 record and 5.25 ERA.
He became a starter in 1940, with a 6-13 record and 6.61 ERA. However, the youngster had not lived up to the expectations of the Athletics and the Cleveland Indians selected him off waivers in August 1941.
Cleveland used Dean as a starter in 1942 to replace Bob Feller who was serving in the Navy. He had an 8-11 record and 3.81 ERA. He worked as a starter and reliever in 1943 and was 5-5 with an earned run average of 4.50.
On November 15, 1943, Dean entered military service at Fort Jackson, South Carolina. During 1944, he served at Daniel Field, Georgia, with the Air Force, where his wife worked in the PX and he played baseball with teammate Pete Center for the Daniel Field Fliers.
Dean was at Camp Kearns, Utah in early 1945 before being sent to Hawaii. He appeared in numerous exhibition games in Hawaii and was with team managed by Birdie Tebbetts that toured Pacific war zones. Dean was on Iwo Jima the day Japan surrendered.
Returning to the United States at the end of 1945, Dean was discharged at Greensboro, North Carolina in January 1946 and rejoined the Athletics for spring training. He was, however, released on March 22, 1946 and in December 1948, he sued the Athletics for $4,450 under the GI Bill of Rights, claiming that amount was due him on a $7,000 contract that was never honored.
Dean played with Mount Airy in the Blue Ridge League in 1946 where he had a 12-7 won-loss record and .419 batting average. He managed the Mount Airy team in 1947, and then took a job as civilian athletic director for the Army at Fort Dix and for the European Command at Nuremberg, Germany.
He briefly returned to baseball as a minor league umpire in the Tri-State League in 1955.
In July 1970, Dean appeared in the Phillies-Athletics Old-Timers game at Connie Mack Stadium. Five months later, on December 21, he succumbed to cancer in Riverside, New Jersey, aged 55.
Created January 6, 2008.
Copyright © 2015 Gary Bedingfield (Baseball in Wartime). All Rights Reserved.