The Birdhouse @ www.thestlcardinals.com the online leader for exclusive, objective and independent coverage of the St. Louis Cardinals, providing the ultimate fan experience through community interaction with our team of experts, writers and reporters.
Ray Mileur, Founder & Publisher

Otis "Scat" Davis
Date and Place of Birth: September 24, 1920 Charleston, Arkansas
Died: July 23, 2007 Clearwater, Florida
Baseball Experience: Major League
Position: Outfield
Rank: Unknown
Military Unit: US Navy
Area Served: United States
Major League Stats: Scat Davis on Baseball-Almanac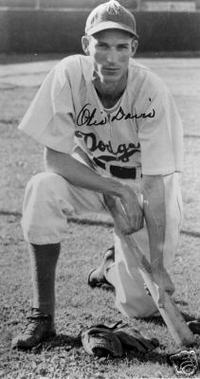 Otis A "Scat" Davis was born on September 24, 1920, on his family's farm near Charleston, Arkansas. He attended Charleston High School and played baseball his senior year – because that was the only year the school had a baseball team.
In 1941, he played for Marysville, Kansas, in the Ban Johnson League and signed with the St Louis Cardinals in 1942. Davis played at New Iberia in the Evangeline League, Williamson in the Mountain State League and Hamilton of the PONY League before entering military service with the Navy on August 8, 1942.
He was assigned to San Diego, but his knee would swell up doing exercises (a problem he had suffered throughout high school) and he received a medical discharge in November. Davis returned to professional baseball in 1943 and played for Jamestown in the PONY League where he hit .328 and led the league with 32 stolen bases. He joined Rochester in 1944 and batted .270 in 118 games. His performance the following season was good enough to earn him a place at spring training with the Cardinals but St Louis sold him to the Dodgers on April 19 and he made his only major league appearance as a pinch runner for Brooklyn on April 22. Trailing the Boston Braves, 4-2, in the bottom of the ninth inning, Davis ran for Eddie Stanky who had drawn a base on balls. He scored on a double by Pete Reiser and the Dodgers went on to twin the game in extra innings.
But Davis continued to have problems with his knee and was assigned to the Fort Worth Cats of the Texas League for the remainder of the season. His knee failed to improve and in July he quit baseball and returned home to Rochester, New York, where he played semi-pro baseball for the Ebers team.
In 1947, Davis returned to the Dodgers' organization and played at Nashua in the New England League where he hit .302 in 116 games with 72 RBI. In 1948 he played for Pueblo in the Western League and was sent to Abilene of the West Texas-New Mexico League as a player-manager, where he ended his professional career.
He went to the Rochester Institute of Technology and learned to be a machinist. In 1950 he became a machinist for Sybron, and joined Eastman Kodak in 1969, staying there until he retired in 1983.
Otis Davis passed away on July 23, 2007 in Clearwater, Florida. He was 86 years old.
Created September 5, 2007.
Copyright © 2015 Gary Bedingfield (Baseball in Wartime). All Rights Reserved.