Billy Cox
Date and Place of Birth: August 29, 1919 Newport, Pennsylvania
Died: March 30, 1978 Harrisburg, Pennsylvania
Baseball Experience: Major League
Position: Third Base
Rank: Private
Military Unit: 814th Signal Corps US Army
Area Served: Mediterranean and European Theater of Operations
Major League Stats: Billy Cox on Baseball-Almanac
"We have a couple of the hottest youngsters in baseball today in shortstop Billy Cox and outfielder Ralph Kiner."
Frankie Frisch March 1946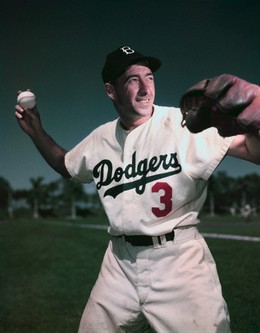 William R "Billy" Cox was born on August 29, 1919 in Newport, Pennsylvania. Billy's father, Frederick, played semi-pro baseball as a young man, and Billy was an exceptional player while attending Newport High School.
He graduated from high school in 1939 and played shortstop for the Newport semi-pro team. In 1940 he was signed by nearby Harrisburg of the Interstate League and batted .288 with 24 doubles, five triples and eight home runs. He was also an all-star shortstop.
In 1941, Cox led the Interstate League in batting, hits, doubles and total bases for Harrisburg. He had a 22-game hitting streak, hit .368 and set a league record for most assists as a shortstop.
Called up to Pittsburgh on September 4, 1941, the young prospect was expected to replace Arky Vaughn in the Pirates' infield. He played 10 games with the Pirates at the end of 1941, hitting .270.
On February 9, 1942, Cox entered military service. He was initially stationed at New Cumberland Reception Center with the 1301st Service Unit, where he had the opportunity to play baseball. The New Cumberland team line-up included Ralph Tisko (Buffalo pitcher), Stanley Shargey (Rome Colonels), Louis Pugliano (Butler), and Bobby Rhawn (Columbus, American Association).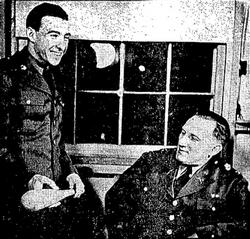 Private Billy Cox with Captain William R Lepper at New Cumberland Reception Center
Cox is one of the few players allowed to play for their major league team while in military service. It happened during May 1942. "[The] appearance of Private Billy Cox in the line-up for the Pittsburgh Pirates was the magnet for a crowd of nearly 3,500 fans during their exhibition game with the Harrisburg Senators of the Inter-State League, here last week," wrote The Sporting News on May 28, 1942. "By special permission of Army officers, Cox was able to play with the Bucs for that night against his former mates. Cox … made the most of the opportunity and registered four runs in the Bucs' 14 to 5 win."
Cox was soon overseas with the 814th Signal Corps. He saw action in North Africa, Sicily, Italy, France and Germany. His unit would come in behind the front line troops, laying wires and setting up communication centers. There was little time for baseball although he did make an appearance for an Army all-star team against the Navy all-stars in Sicily in August 1944. He also ran into few big league players although he did meet Zeke Bonura. "I ran into Zeke in France," he told The Sporting News on May 2, 1946. "I just missed seeing our [Pirates] lefthander, Ken Heintzelman, pitch in Mannheim, Germany. I got there the following day."
Corporal Cox returned home in late 1945. He was discharged from Indiantown Gap Separation Center on November 14, 1945, and immediately returned home, marrying his high school sweetheart, Annie E Radle on November 26.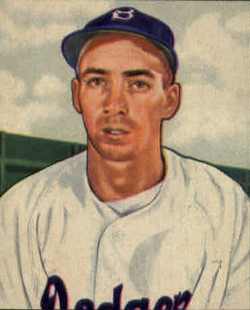 Cox had been away for four seasons and was now 26 years old. "I lost a good part of my career," he told The Sporting News on May 2, 1946, "but I'm not kicking. I went through four years of the war, and came out whole, so I guess I am lucky. However, I do want to make up for lost time, and get in all the baseball I can in the next ten years. I like the big league way of doing things, and that's where I want to stay."
He signed a Pirates' contract on February 1, 1946, and showed no early signs of the harrowing experience of war as he immersed himself into a fine season both offensively and defensively. In 121 games Cox batted .290 and struck out only 15 times in 411 at-bats. He batted .274 in 1947 but was traded to the Dodgers at the end of the year.
It was with the Dodgers that Billy Cox came into his own. Cox moved over to third in Brooklyn and held down that position for seven seasons and three National League Championships.
Cox, 35, was traded to the American League's Baltimore Orioles at the end of 1954. He played 53 games for the Orioles in 1955 and was batting a dismal .211 when he was traded to the Cleveland Indians on June 15. Cox refused to report to Cleveland. Instead, he went home and admitted himself to hospital for a hernia operation shortly after.
Billy Cox, who had been working as a steward in a private club in his rural hometown of Newport, succumbed to esophageal cancer at Polyclinic Hospital on March 30, 1978. He was just 58.
Created March 28, 2007. Updated April 12, 2007.
Copyright © 2015 Gary Bedingfield (Baseball in Wartime). All Rights Reserved.