Merv Connors
Date and Place of Birth: January 23, 1914 Berkeley, California
Died: January 8, 2006 Berkeley, California
Baseball Experience: Major League
Position: First Base
Rank: Private
Military Unit: HQ Company, 1st Battalion, 517th Parachute Regimental Combat Team, US Army
Area Served: European Theater of Operations
Major League Stats: Merv Connors on Baseball-Almanac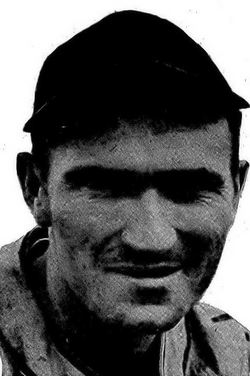 Mervin J "Merv" Connors was born on January 23, 1914 in
Berkeley, California
. He graduated from
Berkeley
High School
in 1931, was signed by the Oakland Oaks of the Pacific Coast League in 1934 and spent the season with the Beckley Black Knights in the Middle-Atlantic League.
Connors batted .265 his rookie year and joined Palestine in the West Dixie League in 1935, where he batted .283 and led the league with 29 home runs. He played for Longview of the East Texas League in 1936 and again led the league in home runs with 24. The young third baseman had another excellent season with Longview in 1937, and his .325 batting average, 24 home runs and 107 RBIs were enough to earn a late-season call-up to the Chicago White Sox.
Connors made his major league debut on September 4, 1937 and appeared in 28 games, batting .233 with two home runs.
He played for Shreveport of the Texas League in 1938, making the defensive switch from third to first base and batting .279 with 22 home runs. Again, he earned a late-season promotion to the White Sox and put on an impressive hitting display. On September 17, 1938, Connors hit three consecutive home runs for the White Sox and followed that with a line-drive double off the scoreboard in centerfield at Comiskey Park. By the close of the season, Connors had played 24 games and had a .355 batting average. He had clouted six home runs – a pace that would have given him around 36 for the full season.
Only Connors' defensive skills was letting him down at the time and the White Sox sent him back to Shreveport for 1939, where an early season injury to his right arm hampered his season. Connors numbers dropped drastically. He batted only .229 for the season and managed just 16 home runs – his lowest number since his 1934 rookie year.
Connors sub-par season resulted in the White Sox selling him to Syracuse of the International League for 1940. But he got off to another poor start and was batting .097 after 18 games when he was sent to San Antonio in the Texas League. By 1941, Connors was a long way from the major leagues with Texarkana in the Cotton States League, but a strong season (.348, 29 home runs, 112 RBIs) marked the beginning of a comeback.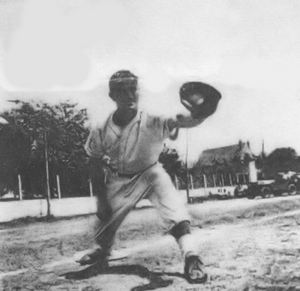 In 1942, he returned to the Texas League with the Fort Worth Cats and batted .286 with a league-leading 27 home runs and 101 RBIs. He played for
Memphis
of the Southern Association and
Milwaukee
of the American Association in 1943 and was just one step away from returning to the major leagues when military service beckoned for the 29-year-old.
Merv Connors served as a private with the HQ Company, 1st Battalion, 517th Parachute Regimental Combat Team. He saw action during the Battle of the Bulge and received a Bronze Arrowhead for participating in an airborne combat assault. Following the German surrender, he played first base with the 13th Airborne Division Black Cats during 1945 and provided the offensive punch behind the pitching of Dave Koslo that led the team to a remarkable 33-4 record.
Connors was discharged in August 1945 and returned to the Memphis Chicks in 1946. He batted a solid .283 in 96 games and joined the Longview Texans of the Lone Star State in 1947, followed by a season with the Paris Rockets of the Big State League. He continued to play in the minors until 1953, and in his last two seasons, he produced some of his finest numbers. Connors hit a league-leading 47 home runs with 126 RBIs with the Amarillo Gold Sox of the West Texas-New Mexico League in '52 and slugged 34 home runs for the Carlsbad Potashers of the Longhorn League in his final year. In 2,173 minor league games over three decades, Connors batted .295 with 400 home runs and 1,629 RBIs.
Merv Connors returned home to Berkeley, California and operated Verns Trucking Service until retiring in 1975. He passed away on January 8, 2006, at the age of 91, and is buried at St Mary's Cemetery in Oakland, California
.
Created January 1, 2008.
Copyright © 2015 Gary Bedingfield (Baseball in Wartime). All Rights Reserved.