Al Cihocki
Date and Place of Birth: May 7, 1924 Nanticoke, Pennsylvania
Baseball Experience: Major League
Position: Infield
Rank: Unknown
Military Unit: US Coast Guard
Area Served: United States
Major League Stats: Al Cihocki on Baseball-Almanac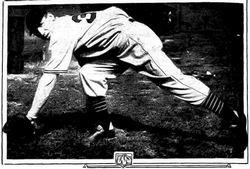 Albert J "Al" Cihocki was born on May 7, 1924 in Nanticoke, Pennsylvania. As a pitcher, he led his high school team to a championship in 1939, and played sandlot ball with Pete Gray – the one-armed outfielder who overcame all odds and made it to the majors with the St Louis Browns in 1945.
Cihocki had a brief trial with the Philadelphia Phillies in 1941 but signed his first contract as an infielder with Wilkes-Barre of the Eastern League in 1942. The Barons sent him to Batavia – a Cleveland Indians' affiliate – in the PONY League, where he batted .342 and was the league's all-star third baseman.
His professional career was put on hold at the end of the season as he joined the Coast Guard and was stationed at Curtis Bay, Maryland. Cihocki played baseball at Curtis Bay where his manager was former Cleveland Indians' outfielder, Dick Porter.
Cihocki received a medical discharge from service at the beginning of 1945. He returned to the Wilkes-Barre club and looked like a promising player who would make the team's roster. However, the Cleveland Indians were struggling for infielders at the time and Cihocki was given an opportunity at the major league level.
He made his major league debut on opening day April 17, 1945, against the Chicago White Sox and played 92 games as a utility infielder. Cihocki batted .212 with 24 RBIs in his only major league season.
Cihocki joined the Baltimore Orioles of the International League in 1946, where he remained through the 1952 season. He later managed the semi-pro Bismarck Barons and various clubs in the minor leagues.
Al Cihocki lives in Medford Lakes, New Jersey.
Created December 24, 2007.
Copyright © 2015 Gary Bedingfield (Baseball in Wartime). All Rights Reserved.