Ted Cieslak
Date and Place of Birth: November 22, 1916 Milwaukee, Wisconsin
Died: May 9, 1993 Milwaukee, Wisconsin
Baseball Experience: Major League
Position: Third Base
Rank: Unknown
Military Unit: US Army
Area Served: United States
Major League Stats: Player on Baseball-Almanac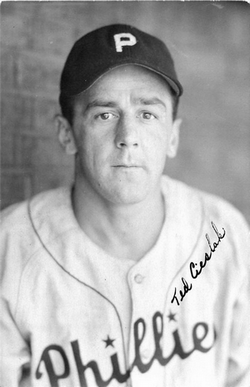 Thaddeus W "Ted" Cieslak was born on November 22, 1916 in Milwaukee, Wisconsin. He played baseball at St Joseph Parochial School, then joined an American Legion team and moved into the semi-pro ranks. In 1938, he was signed by a scout for the Chicago White Sox and joined the Rayne Rice Birds of the Evangeline League.
Cieslak hit .269 his rookie year and batted .302 in 1939, earning promotion to Oklahoma City in the Texas League. It was while playing for Oklahoma City that he suffered a fractured skull when he was hit by a pitch from Dizzy Trout. He spent three days in hospital and sat out the final
Cieslak remained with Oklahoma City through 1941 and joined Wilmington – a Philadelphia Athletics' farm team - of the Interstate League for 1942. Just a few days into the season – on May 12 1942 - Cieslak entered military service with the Army at Fort Dix, New Jersey.
He played baseball at Fort Dix during 1942 and 1943, and was in charge of an Army gymnasium program during the winter months. It was at this time he was struck in the head again, this time by a medicine ball. Cieslak suffered from severe headaches there afterwards and was sent to the base hospital and examined by a psychiatrist.
"He asked me more crazy questions in three hours than I thought were in the book," Cieslak recalled in 1944. "When it was all over, I didn't know who was screwy, he or I. I guess they must have thought it was me, for I went back to the hospital. I was under observation for 27 days. Each morning someone came around to ask me questions. The answers I gave must have convinced them that I wouldn't be much help to the Army, for they handed me my release in December."
In the spring of 1944, Cieslak returned to Wilmington – the last club he had played for before military service. The Wilmington team had been taken over by the Philadelphia Phillies and the parent club needed a third baseman. Impressive in spring training, Cieslak joined the Phillies and made his major league debut on opening day April 18 against Brooklyn.
In his only season in the major leagues, Cieslak played 85 games for the Phillies and batted .245. In 1945, he was with Atlanta in the Southern Association and batted .364 with 120 RBIs to earn MVP honors. He repeated as MVP in 1946 and again hit over .300 for Atlanta in 1947.
Cieslak joined Nashville in 1948, and then played for Fort Lauderdale of the Florida State League during 1949 and 1950. He played in the Panama Winter League in 1950-51 and was, again, hit in the head during a pick-off attempt at second base. Cieslak was placed under observation of the league doctor for 10 days.
Ted Cieslak ended his playing career with Lakeland in the Florida State League in 1952. He passed away in Milwaukee, Wisconsin on May 9, 1993.
Created December 24, 2007. Updated January 11, 2015.
Copyright © 2015 Gary Bedingfield (Baseball in Wartime). All Rights Reserved.