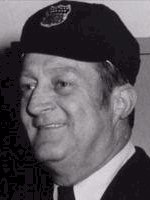 Nestor L Chylak Jr was born on
May 11, 1922 in Olyphant, Pennsylvania.

He graduated from Olyphant High School and studied engineering at Rutgers University before entering military service with the Army on December 3, 1942.
Chylak served as a technical sergeant in the European Theater and almost lost his sight
on January 3,1945, during the Battle of the Bulge, when he was struck by shrapnel from an exploding German shell. He was in the hospital for eight weeks and doctors didn't know whether he would be able to see until they removed his bandages ten days

after the operation.

Following a full recovery, Chylak returned to the front line and received the Silver Star and another wound before the war ended in Europe.

He attended the University of Scranton after his discharge in 1946, and turned down the opportunity to umpire a college game until he learned it paid $25. So began a four-decade career in umpiring.

In 1947 he began his minor league career in the Class D PONY League. He moved up to the Canadian-American League in 1949, the Eastern League in 1950, and the International League 1952.

Chylak was 30 years old when he made his major league debut as an American League umpire in 1954. He umpired six All-Star games, three League Championship Series and five World Series.

"Nestor is one of the ultra, ultra good umpires," said Johnny Pesky. "And the players respond to him. He's a good hustler. He always seems to be at the right place at the right time."
Chylak retired as an active umpire after the 1975 season, and became the American League's assistant supervisor of umpires.
"I umpired for 25 years and can honestly say I never called one wrong in my heart," he once recalled. "The way I see it, an umpire must be perfect on the first day of the season and then get better every day."
Nestor Chylak passed away at his home in Dunmore, Pennsylvania on February 17, 1982. He was 59. Chylak was inducted in the Baseball Hall of Fame in 1999.
"He was certainly one of the greatest umpires of this era, if not the greatest," said American League President Lee McPhail.
Created January 28, 2008.
Copyright © 2015 Gary Bedingfield (Baseball in Wartime). All Rights Reserved.