This page is sponsored by the family of John Chopick.

His memory will live on forever in our hearts.


John Chopick
Position: Pitcher
Born: Courtdale, PA June 1, 1918
Died: April 22, 1999
Military Service:
US Army (ETO)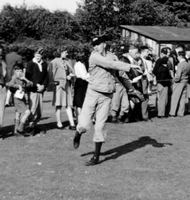 John Chopick was a broad-shouldered, right-hander who played for Edwardsville High School and Edwardsville Royals semi-pro team in Pennsylvania before the war.

Entering military service in December 1941, Chopick served with the 29th Infantry Division in England at the 10th Replacement Depot in Lichfield. It was during this time that Chopick had the opportunity to play plenty of baseball. Playing in the Midland League, which consisted primarily of British teams representing manufacturing plants involved in essential war work, the 10th RD clinched the championship in 1944 and 1945.

Chopick met his wife, Margaret, when the 10th RD team traveled to Clifton College in Bristol as part of a UK tour. They were married at St Bonaventure Church and their first son, Robert, was born in Bristol in August 1945.
10th Replacement Depot baseball team at Lichfield, England in 1944.
(Chopick is front row, second from right)
After the war Chopick worked as a motorman in the mines and as a machinist in various manufacturing plants.

Thanks to Margaret (Peggy) Chopick, Bob Chopick and Robert Chopick for information contained in this biography.
Copyright © 2015 Gary Bedingfield (Baseball in Wartime). All Rights Reserved.