Ed Chapman
Date and Place of Birth: November 28, 1905 Courtland, Mississippi
Died: May 3, 2000 Clarksdale, Mississippi
Baseball Experience: Major League
Position: Pitcher
Rank: Chief Petty Officer
Military Unit: Company C, 6th Naval Construction Battalion US Navy
Area Served: Pacific Theater of Operations
Major League Stats: Ed Chapman on Baseball-Almanac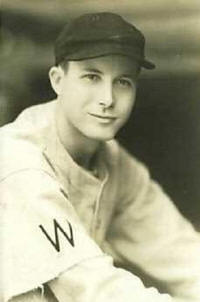 Edwin Volney Chapman was born on November 28, 1905 in Courtland, Mississippi. Most commonly known by his middle name, Volney, he attended Mississippi Agricultural and Mechanical College (now Mississippi State) and was the mainstay of the pitching staff his sophomore and junior years, hurling a 2-0 shutout against Spring Hill College on his debut.

Chapman's professional career began in the summer of 1927 when he was signed by the St. Louis Cardinals' chain and made five appearances for a 4-1 record for the Topeka Jayhawks of the Class C Western Association. He was 10-8 with the Laurel Cardinals of the Class D Cotton States League in 1928 and pitched for Danville and the Scottsdale Scotties of the Class C Mid-Atlantic League in 1929, pitching a no-hitter for Scotsdale. Returning to the Scotties in 1930, Chapman had an outstanding season with a 19-9 record and 3.62 ERA.

Chapman spent 1931 and 1932 between Greensboro of the Class C Piedmont League and Columbus of the Class AA American Association, pitching his second career no-hitter for Greensboro in 1931. He helped that club clinch the Piedmont League championship in 1932 by winning four games in the play-offs. In 1933, he spent the majority of the season with the Rochester Red Wings of the Class AA International League and had a 10-5 record with a 2.69 ERA when he was purchased by the Washington Senators in August. The Senators paid $15,000 and also sent pitcher Bill McAfee to the Red Wings to get hold of the right-hander (McAfee pitched 27 games for the Senators in 1933 and 28 for the Browns the following year).

Chapman made his major league debut on August 6, 1933, starting against the Philadelphia Athletics at Griffith Stadium. Against a line-up that included Jimmie Foxx, Mickey Cochrane and Pinky Higgins, Chapman lasted just two innings and gave up four runs. He made a further five appearances that year, all in relief, pitching a total of just nine innings for an ERA of 8.00.

Washington sent Chapman to the Albany Senators of the Class AA International League in 1934 and despite winning 13 games he developed arm trouble that plagued him for the following two years at Albany (he was 0-4 in 1935 and pitched just five games in 1936).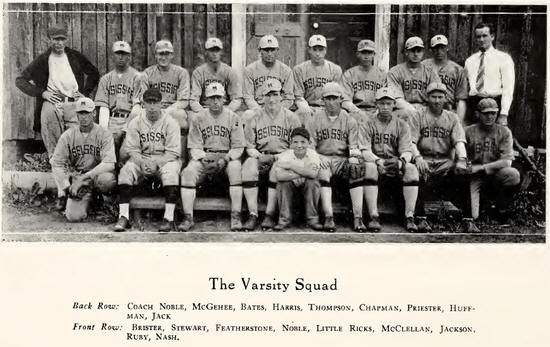 1927 Mississippi Agricultural and Mechanical College baseball team
Aged 30, Chapman was released by the Washington organization after the 1936 season. He pitched for Knoxville in 1937 and was 5-12, and for Montreal in 1938 where he was 9-14. He returned to his winning ways in 1939 with a 15-4 record and 2.35 ERA for the Goldsboro Goldbugs of the Class D Coastal Plain League and, aged 34, was 13-8 for the Goldbugs in 1940.

Chapman entered military service with the United States Navy in 1941. He served as a Chief Carpenter's Mate (Acting Appointment) with Company C of the 6th Naval Construction Battalion and helped keep Henderson Field operational during the Battle of Guadalcanal in 1942. He was stationed at New Caledonia during 1943 and 1944, where he combined with future Dodgers pitcher Ray Hathaway for the Battalion ball team. By the end of the war he had attained the rank of Chief Petty Officer.

Chapman did not return to baseball after the war. In 1948, he met Mary Hattox, a nurse. They married the same year and lived at the River Bend Plantation, owned by his brother, Ralph. Volney and Mary had two sons and later farmed the Twin Lakes Plantation in Tallahatchie County. They were founding members of the Wilson Lake Country Club and both avid golfers.

Edwin Volney Chapman passed away on May 3, 2000 in Clarksdale, Mississippi. He is buried at Lambert Cemetery in Lambert, Mississippi. Mary passed away on September 22, 2012.

Chapman's younger brother, Calvin, began a professional career in baseball in 1932 and played for the Cincinnati Reds in 1935 and 1936. He continued to play in the minors until 1948.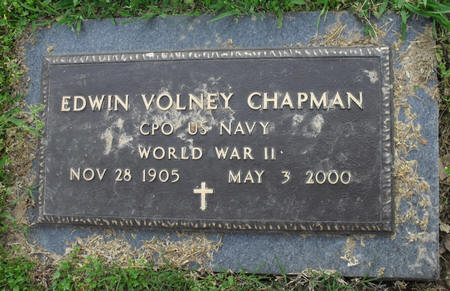 Sources:
Albany Evening News, April 18, 1934
Albany Evening News, March 25, 1936
Mary Ruth Chapman obituary, Meredith-Nowell Funeral Home, Clarksdale, MS
Created February 15, 2015.
Copyright © 2015 Gary Bedingfield (Baseball in Wartime). All Rights Reserved.