Spud Chandler
Date and Place of Birth: September 12, 1907 Commerce, Georgia
Died: January 9, 1990 South Pasadena, Florida
Baseball Experience: Major League
Position: Pitcher
Rank: Private
Military Unit: Headquarters Company, 65th Infantry Division US Army
Area Served: United States
Major League Stats: Spud Chandler on Baseball-Almanac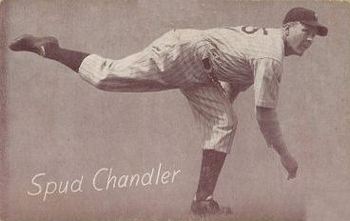 Spurgeon F "Spud" Chandler was born on September 12, 1907 in Commerce, Georgia. He attended the University of Georgia where he was a four-year baseball and three-year football varsity athlete, pitching and playing halfback.
Chandler signed with the New York Yankees in 1932, and played with Springfield and Binghamton in 1932. Working his way through the Yankees farm system, he had stops at Newark, Minneapolis, Syracuse, Oakland and Portland before making it to the major league club at the age of 29 in 1937.
Chandler had an excellent 1938 season with a 14-5 record, but through relentlessly pushing himself on every pitch he suffered a sore arm and made only eleven appearances in 1939, all in relief. He then made a steady comeback winning eight games in 1940, 10 in 1941, 16 in 1942 and then having a career-year in 1943 with an exceptional 20-4 record and 1.64 ERA to earn the MVP Award.
Chandler pitched just one game in 1944 before he was called to military service with the Army. Initially based at the Fort McPherson Reception Center in Georgia, Private Chandler was soon assigned to the Headquarters Company of the 65th Infantry Division at Camp Shelby, Georgia.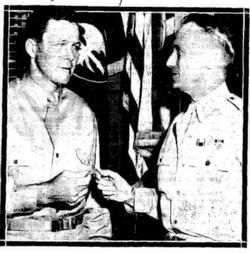 Spud Chandler at Camp Shelby in 1944
On June 10, 1944, Chandler was given an emergency furlough from Camp Shelby to visit his wife in St Petersburg, Florida, following the death of their newborn son. The child had survived only a few hours following a Caesarean operation.
While in the service Chandler hoped he would get the opportunity to play baseball on a daily basis. "But the Army isn't run that way," he told The Sporting News on September 14, 1944. "If they'd wanted me to be a pitcher, they would have had me stay with the Yankees. I'm proud now that I was assigned to an infantry unit as a soldier, because I now realize the importance of my job. And it's a hard job, too. I've had to learn to fire more types of weapons than I ever knew existed."
Chandler did, however, find time to pitch a few games for the Special Troops team in the Camp Shelby League.
On September 9, 1944, a presentation was made by Major General Stanley E Reinhart at Camp Shelby in recognition of his selection by the Baseball Writers' Association of America as the American League's Most Valuable Player of 1943. General Reinhart presented Private Chandler with an engraved watch.
Chandler was based at Moore General Hospital in Asheville, North Carolina in 1945, where he had an n opportunity to pitch for the hospital ball team. On August 3, 1945, for example, he defeated the Appalachian League all-star team.
Spud Chandler was discharged in September 1945, and was back in Yankees pinstripes within days. On September 9, an astonishing crowd of 72,152, turned out to watch Chandler against Bob Feller in the first game of a Sunday double-header. Feller was in fine form, winning 10-3, while Chandler was a long way from being ready but the New York crowd was happy to have their MVP hurler back.
Chandler came back in style in 1946 despite being 38 years old. He was 20-8 with a 2.10 ERA and was selected to the American League all-star team for the third time. Then arm problems came back and he dropped to 9-5 in 1947 in 17 games. He underwent surgery to remove bone chips from his elbow at the end of the season but the magic had gone and the Yankees gave him his unconditional release after spring training in 1948.
Chandler continued to work for the Yankees organization as a scout and then a minor league manager. In later years he scouted for Kansas City, Cleveland and Minnesota, before retiring to St Petersburg, Florida in 1985.
Spud Chandler was in good health until a fall in September 1989, when he suffered a fractured shoulder. Complications set in and he died of heart failure at South Pasadena, Florida on January 9, 1990.
Created February 15, 2008.
Copyright © 2015 Gary Bedingfield (Baseball in Wartime). All Rights Reserved.