Pete Castiglione
Date and Place of Birth: February 13, 1921 Greenwich, Connecticut
Baseball Experience: Major League
Position: Infield
Rank: Chief Radioman
Military Unit: US Navy
Area Served: Pacific Theater of Operations
Major League Stats: Pete Castiglione on Baseball-Almanac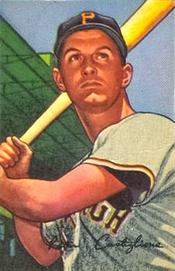 Peter P "Pete" Castiglione was born on February 13, 1921 in Greenwich, Connecticut. He signed with the Pittsburgh Pirates' organization in 1940 and played for Carthage of the Arkansas-Missouri League and Hutchinson of the Western Association his rookie year.
The young infielder was with Moultrie of the Georgia-Florida League in 1941 and moved up to Harrisburg of the Interstate League in 1942.
The Pirates decided to acquire Castiglione's services in March 1943, but Uncle Sam beat them to the punch. He joined the Navy and served two years in the Pacific. As a chief radioman, he served on the destroyer escort USS Crouter (DE-11) and the fleet oiler USS Ponaganset (AO-86). He participated in campaigns at the Solomon Islands, New Guinea, Palau Islands, Philippine Islands and Okinawa, and was at Wakayama, Japan at the end of the war.
Castiglione returned to home in January 1946 and played for Selma in the Southeastern League. Following a strong season in which he batted .342 with 81 RBIs, he moved up to Indianapolis of the American Association for 1947, and was called up by the Pirates in September.
| | |
| --- | --- |
| | |
Castiglione made his major league debut on September 10, 1947. He appeared in 13 games and hit .250. He was back with Indianapolis for 1948, but another strong year in which he batted .308 with 88 RBIs secured his place with the Pirates.
Castiglione spent the next four-and-a-half years with Pittsburgh as a utility infielder. His best season was 1951, when he played 132 games and batted .261 with 42 RBIs.
At 32, he was traded to the Cardinals in June 1953, where he ended his major league career the following year. He continued to play in the minors until 1958 with Toronto, Buffalo, Binghamton and Little Rock.
Pete Castiglione lives in Pompano Beach, Florida.
Created December 20, 2007.
Copyright © 2015 Gary Bedingfield (Baseball in Wartime). All Rights Reserved.