Jim Castiglia
Date and Place of Birth: September 30, 1918 Passaic, New Jersey
Died: December 26, 2007 Washington, DC
Baseball Experience: Major League
Position: Catcher
Rank: Captain
Military Unit: US Army
Area Served: United States
Major League Stats: Jim Castiglia on Baseball-Almanac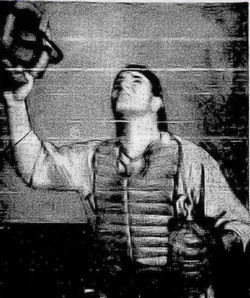 James V "Jim" Castiglia was born on September 30, 1918 in Passaic, New Jersey. He was a standout athlete at Georgetown University, playing both football and baseball.
He played professional football as a fullback with the Philadelphia Eagles in 1941, and signed with the Philadelphia Athletics as a catcher in 1942. He didn't play a single game in the minors and was used primarily as a bullpen catcher in Philadelphia that season, Castiglia played in 16 games and batted .389 (7 for 18).
But the 23-year-old didn't see the season out as he entered military service with the Army on July 6. Castiglia served at Greensboro Overseas Replacement Depot in North Carolina, where he managed the Tech-Hawks baseball team and played fullback with the Personnel Distribution Command football team.
The Tech-Hawks – whose line-up included Taft Wright, Grady Hatton, Lee Gamble, Barney DeForge and George Granger - finished third in the national semi-pro tournament from 1943 to 1945, and Castiglia was an all-star selection in 1945.
Castiglia returned to the Athletics after military service and was on their spring roster for 1946. He never again played baseball at the professional level but continued to pursue his football career with the Eagles, Colts and Redskins.
Jim Castiglia is a member of the Georgetown Athletic Hall of Fame for baseball and football. He passed away on December 26, 2007, aged 89.
Created December 20, 2007. Updated January 11, 2008.
Copyright © 2015 Gary Bedingfield (Baseball in Wartime). All Rights Reserved.