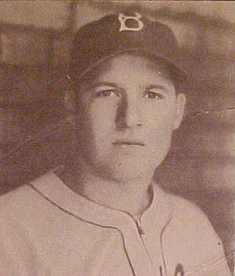 Hugh T Casey was born in Atlanta, Georgia on October 14, 1913. He began his pro career with Atlanta in the Southern Association in 1932.
Casey pitched 13 games for the Cubs in 1935, then spent the next four years in the minors. He was 13-14 with the Memphis Chicks of the Southern Association in 1938 and joined the Dodgers the following year.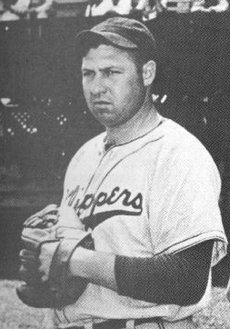 Casey was 15-10 with the Dodgers in 1939. He threw the pitch that was infamously mishandled by Mickey Owen in the 1941 World Series. "He was a real good friend," recalled Whitlow Wyatt, "the nicest guy you would ever want to meet. But on that mound, Hugh Casey had a mean streak. He just as soon knock down a hitter as look at him."
After compiling a 6-3 record in 50 appearances for the Dodgers in 1942, Casey joined the Navy. He was at Norfolk Naval Air Station where he was a physical fitness trainer before being sent to the Pacific in 1944. While at Norfolk NAS he pitched in the 1943 Navy World Series against Norfolk NTS. He pitched in five of the seven games, winning games four and six.
Casey was stationed at Kaneohe Bay Air Base in Hawaii in 1944, and Aiea Hospital on the island in 1945.
Casey was back with the Dodgers in 1946 and easily slipped into his role as a relief specialist. He made 46 appearances that year and recorded a superb 1.99 earned run average. He remained in the major leagues until 1949.
In 1950 he was with Atlanta of the Southern Association and tried to get back with the Dodgers in 1951. He also pitched for the semi-pro Brooklyn Bushwicks.
On July 3, 1951, he committed suicide following years of heavy drinking and womanizing. He was just 37 years old.
Casey was inducted in the Georgia Sports Hall of Fame in 1991.
Thanks to Hugh's son, Michael, for help with his father's biography.
Created April 13, 2007.
Copyright © 2015 Gary Bedingfield (Baseball in Wartime). All Rights Reserved.