Dan Carnevale
Date and Place of Birth: February 8, 1918 Buffalo, New York
Died: December 29, 2005 Buffalo, New York
Baseball Experience: Minor League Infielder/Major League Coach
Position: Shortstop
Rank: Master Sergeant
Military Unit: Finance Department US Army
Area Served: European Theater of Operations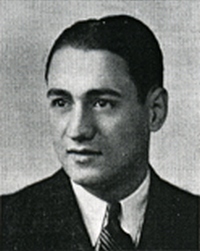 Daniel J "Dan" Carnevale was born in Buffalo, New York on February 8, 1918. He was a three-sport, nine-letter athlete at St Joseph's in Buffalo, New York, which gained him membership in that school's Sports Hall of Fame. Carnevale's athletic skills continued to shine at Canisius College in the winter of 1935-36, as he played for the freshman football and basketball teams.
Carnevale left Canisius to pursue a career in professional baseball in the spring of 1937, having been signed by the Buffalo Bisons of the International League. His eye-catching rookie season .354 batting average and 100 RBIs for Cornwall, Ontario of the Canadian-American League were a sign of things to come. He joined the Bisons in 1938, but a .216 batting average for the year saw him optioned to Wilkes-Barre of the Eastern League for 1939. He was back with Buffalo in 1940, and then joined Scranton of the Eastern League for the next three seasons. He was accepted for military service on August 10, 1943 and joined the Army at the New Cumberland Induction Center, Pennsylvania, on August 31. But before doing so, Carnevale was presented with cash and other gifts by the Scranton club on August 29. He rewarded the team by hitting a home run in his last plate appearance to help them to a 6-1 win over Binghamton.

Master Sergeant Carnevale arrived in England in 1945. While in England he worked in the army finance office paying troops. Carnevale has fond memories of his time in England, he especially remembers "the friendship of the citizens of England." He further explained, "We worked in our office building in downtown Bristol. [I] loved to visit many of the historical places and the churches fascinated me - beautiful churches." Carnevale played shortstop in the UK All-Star game in 1945 and played with an Army all-star team that toured the Britain and Europe.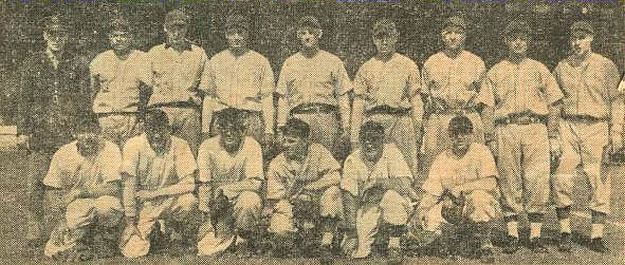 UK All-Stars in 1945. Dan Carnevale is back row, fourth left.
Carnevale was discharged in September 1945. He joined Scranton of the Eastern League and batted .270 with 57 RBIs. The following season he was with Scranton and also Rock Hill of the Tri-State League. In 1948, the power-hitting manager/shortstop attained his first of five championships. He led the circuit in batting average and home runs while guiding Carbondale to the North Atlantic League championship that year. He topped that in 1949 by batting .373 with 126 RBIs for league-topping Bradford of the PONY League. In 1950, he batted .303 while guiding Terre Haute to the Three-I crown. In 1951, he led Wilmington to the Inter-State League title and did the same for Jamestown of the PONY League in 1953.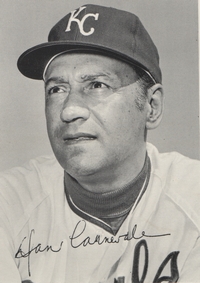 Carnevale returned to the Buffalo Bisons as manager in 1955, and was team general manager in 1956 and 1957. From 1962, Carnevale worked as a major league scout for the Athletics and Orioles. He finally reached the major leagues in 1970 as a first base coach with the Kansas City Royals. Look here if you're interested in
online betting
.

Carnevale continued to work for the scouting department of the Cleveland Indians until retiring in 2001. He was inducted in the Buffalo Baseball Hall of Fame in 1989 and the Greater Buffalo Sports Hall of Fame in 1996.

Dan Carnevale passed away in Buffalo on December 29, 2005, at age 87.
"On behalf of the Rich Family and the Buffalo Bisons organization, I want to extend our sympathies to Dan's family during this difficult time," said Mike Buczkowski, Bisons Vice President/General Manager. "Dan was a great friend of the organization for over 50 years as a player manager and general manger, and we'll truly miss that friendship."
Thanks to the late Dan Carnevale, and Betsey Higgins, Archivist at Canisius College, for help with this biography.
Created July 14, 2006. Updated January 6, 2008.
Copyright © 2015 Gary Bedingfield (Baseball in Wartime). All Rights Reserved.